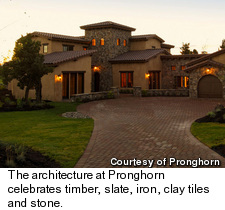 FAIRWAY LIFESTYLE
With Fazio and Nicklaus golf, Pronghorn's the new elite address of central Oregon
By Katharine Dyson,
Special contributor
One-time stomping ground for "Rooster Cogburn," the grizzled, eye-patched aging deputy marshal, AKA John Wayne, this 640-acre tract of rugged high desert landscape 10 minutes from Bend, Ore., has morphed into a grand plan called Pronghorn, a place for those who don't have to rationalize spending a few mil for a second home.
With two championship golf courses by Tom Fazio and Jack Nicklaus, multi-million dollar homes and a grand 55,000-square-foot clubhouse, Pronghorn Properties, headed up by Managing Partner Thomas Hix and President Scott Denney, is on its way to becoming the elite address for central Oregon.
Protected by 20,000 acres of federal land and buffered by the craggy Cascade Mountains, Pronghorn's gentle climate is ideal for those who want to play golf year round.
The architecture celebrates timber, slate, iron, clay tiles and stone. The clubhouse soars with 30-foot stone pillars which rise to meet lofty timbered ceilings, while light from chandeliers casts a saffron glow over carved wood furniture and polished wood floors.
The décor draws from nature's palette: earthy naturals, deep reds, golds, greens and blues. Brown leather chairs, woven Native American wall hangings, animal prints, fur pillows and decorative carpets set a Western mood while stone fire pits invite convivial gatherings on patios.
Pronghorn real estate
Pronghorn's residential areas include The Estates, Villas, the Residents Club and Tesana, the newest offering.
The Estates: All but 24 of the 289 estate lots, 1/2 to 1 acre, have been sold with prices ranging from $500,000 to $2 million. Custom-built homes which reflect Tuscany, the great Northwest, the great houses of the early 1900s and the desert cost from $1.9 million to $3.5 million with features like an African teak bar, limestone counters and large, multiple head open showers. Some have built-in wine cellars and guesthouses.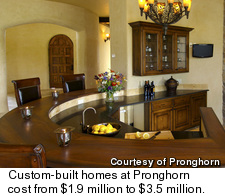 Villas: Mediterranean-inspired three-and four-bedroom villas of 2,400-4,400 square feet are located within easy walking distance of public areas. Fourteen of the 16 villas have been sold with prices ranging from $1.3 million to $2.5 million.
Both Estates and Villa owners enjoy premier membership with perks including golf privileges on the Fazio and Jack Nicklaus golf courses.
The Residence Club: Situated along the Nicklaus 18th fairway, 24 fully furnished town homes of 2,000 to 2,600 square feet appeal to those seeking a maintenance-free, part-time share in Pronghorn. Ninety percent of the 76 fractional ownership shares (whole to one-twelfth) have been sold with prices from $152,500 to $1.525 million.
Time usage, membership fees and maintenance expenses are proportioned according to share size, and owners can participate in Pronghorn's rental management program, where nightly rentals are $495 to $995. Resident Club members get unlimited golf on the Nicklaus course.
Tesana: Just on the market are 79 small home lots with a choice of seven flexible floor plans and architectural designs ranging from 2,076 to 3,131 square feet. Lots in the Tesana neighborhood are selling for $360,000 to $695,000 while prices for homes are from $1 million to $1.6 million.
The golf at Pronghorn
On June 23, 2007, Tom Fazio led a group of 1,000 or so members on a tour of his new course, explaining how the discovery of the petrified lava tube was integrated into the landscape of the eighth hole.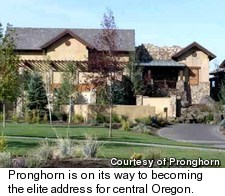 Characterized by native volcanic rocks, 100-year-old juniper trees, water, leafless "ghost trees" and desert arroyos, Pronghorn's 7,381-yard Jack Nicklaus Signature course (2004) and the Fazio 7,462 yard layout (2006), are so perfectly manicured, drives roll forever.
The day I played Nicklaus, the fairways were running 10 1/2 on the stimp while the bent-grass greens were running 12, slipperier than a quick draw from Marshall Cogburn. Though the courses look tight from the tees, hit out and hit straight, as likely as not, you'll find your ball safely in the fairway. The courses are deceptively forgiving.
While the Nicklaus course is available to members and guests, the Fazio course is for The Estates, Villas and Tesana Premier members only. Nicklaus green fees are $50 to $100. The Jack Nicklaus Academy at Pronghorn and a large practice facility are also on site.
Further thoughts on Pronghorn
Hix talks about residents "engulfing themselves in the serenity that comes with such breathtaking landscape." Though Pronghorn is coveted for its seclusiveness - wide open spaces, big sky and unobstructed views of the mountains - you've got to wonder how the setting will change when all 289 home sites are built up with substantial residences. The promise is that ample setbacks will help retain the sense of space.
One hopes there might be a small little market area built into the facilities somewhere along the line - a small general store is indeed in the long-range plans. At present, when you want to create a crème brulee in your fancy kitchen or grill a filet on your high-end grill, you have to get into your car and drive to the Safeway 10 miles down the road.
For the time being, the concierge staff will stock your refrigerator for $25 prior to your arrival.
Hopefully when the bulldozers and cement trucks make their last tracks, the dust will settle and residents and guests can sit on their patios, hear the birds, drink in the scent of juniper, sage and pine and watch the clouds drift over the mountain peaks.
As John "Rooster" Wayne said, "Tomorrow is the most important thing in life. Comes into us at midnight very clean. It's perfect when it arrives and it puts itself in our hands. It hopes we've learned something from yesterday."
Folks at Pronghorn can no doubt relate.
For more information, visit www.pronghornclub.com
Katharine Dyson is a golf and travel writer for several national publications as well as guidebook author and radio commentator. Her journeys have taken her around the world playing courses and finding unique places to stay. She is a member of the Golf Writers Association of America, Metropolitan Golf Writers of America; Golf Travel Writers Organization and Society of American Travel Writers.
March 28, 2008
Any opinions expressed above are those of the writer and do not necessarily represent the views of the management. The information in this story was accurate at the time of publication. All contact information, directions and prices should be confirmed directly with the golf course or resort before making reservations and/or travel plans.