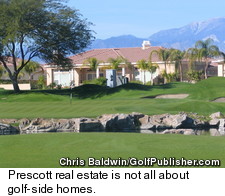 FEATURE STORY
Old Wild West Prescott now Arizona's cool golf retirement spot
By Chris Baldwin,
Contributor
A thriving real estate market and golf courses such as Prescott Lakes Golf Club are turning Prescott, Arizona into a happening golf retirement community.
PRESCOTT, Ariz. - The authentic old-time Wild West swinging saloon doors don't exactly scream hip, happening spot.
Prescott is a lot of things, but cutting edge and hot are phrases that receive about as much use here as a snowsuit does in Phoenix.
Until you look at the real estate listings. Then Prescott suddenly seems as hip as Hannah Montana is to a teen. The average home price in this town two hours from Phoenix that's often been described as sleepy has more than doubled in the last decade to almost $320,000.
And it's sure to go up again with U.S. News & World Report just having named it one of the 10 best spots to retire in America.
"It definitely makes you think of Prescott a little more," New York visitor Jake Embree said, flipping through the magazine. "I probably never would have thought of going there otherwise."
Plenty of Californians did - for a while. A large part of the skyrocketing home values come from Golden Staters who've abandoned their expensive cities for the relative affordability of a town that's much more temperate than Phoenix.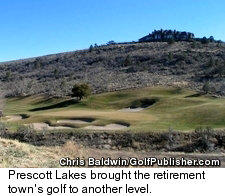 "A guy who lives a middle-class lifestyle in California can come here and live like a king for that same amount of money," Trey Newton, head professional at Prescott Lakes Golf Club, said.
Being a king is getting more expensive here, however, at the same time real estate prices are plummeting in many other spots across the country. The top three listings at Prescott's Red Arrow Real Estate all carry asking prices over $560,000. That was unheard of in these parts even in the high-time 90s.
For that, you get a city of 40,000 that can seem smaller than that. One with enough real Old West ties to make the cast from Deadwood feel at home. Prescott's downtown Whiskey Row is scattered with old-time saloons, including one with the authentic swinging saloon doors (they're much heavier than you'd think).
Of course, The Palace - the oldest bar in Arizona, clocking in at 120 years - also sells $15 souvenir T-shirts and $5 souvenir shot glasses these days. Wyatt Earp might have turned his nose up at that, but he'd probably think even worse of all the people who wile their hours away on the area's golf courses.
Yes, Prescott meets the all-but-official retirement spot requirement of having a good amount of reasonable golf. It's not all about golf course communities here though. Many folks live near downtown in the old Victorian houses.
Still, Prescott Lakes Golf Club - the best course in the area - is surrounded by a master-planned community. You don't have to buy a home to be a member of the golf club, but many who do are looking for golf and a more modern home in this one-time frontier land.
The population definitely tends to have gray hair, but this doesn't mean it's an inactive crowd.
Ray and Hedy Veach are typical. They moved to Prescott years ago from the Midwest expecting to read and lounge around in retirement. Instead, they found themselves accepting an offer to run the day-to-day operations of a vacation condo spot, Villas at the Ridge, which has since changed its named to Ridge Villas Resort.
"I guess you could say we're unsuccessful retirees," Ray Veach said, laughing.
There are a lot of people like that in Prescott. The city's 66-year-old mayor, Jack Wilson, calls himself one too. Maybe it's the cooler air and the altitude (Prescott sits at an elevation of 5,400 feet) or the slow bustle you can find in Courthouse Square, but retirees here tend to dismiss any notion that their lives should revolve around Early Bird Specials.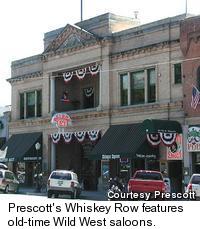 Prescott still gets hot in the Arizona summer, but its buffering by the pines of the surrounding Prescott National Forest tends to make it typically around 20 degrees cooler than Phoenix and pretty comfortable at night.
Your golf ball will fly a little farther in this mountain elevation too. You could need that lift at the forced-carries-galore Stone Ridge Golf Course. Of course, someone unused to the altitude had better also drink triple their usual amount of water or they'll be feeling dehydrated long before the turn and wondering what it is.
"You have to be a little tougher than the usual retiree to enjoy Prescott," local Tom Connor laughed.
You soon may have to be a little richer retiree too. The house prices do not seem to be going down. Still, Prescott is unlikely to ever be a nouveau snob hotspot. A new mall that opened up a few years ago - that received some opposition for being too commercial - features stores like Sears and Dillard's rather than Nordstrom or Neiman Marcus.
This is still a long ways from Scottsdale. Or even Sedona. Those used to a more urban lifestyle can get bored pretty quickly.
You'll even still see a smattering of cowboy hats on patrons of Whiskey Row. Think those folks got the memo on this being a new hip happening retirement spot?
December 10, 2007
Any opinions expressed above are those of the writer and do not necessarily represent the views of the management. The information in this story was accurate at the time of publication. All contact information, directions and prices should be confirmed directly with the golf course or resort before making reservations and/or travel plans.