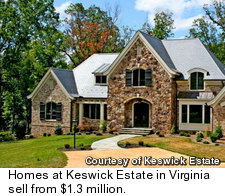 FAIRWAY LIFESTYLE
Keswick Estate near Charlottesville, Virginia: Tasteful living, rolling terrain and Arnold Palmer golf
By Katharine Dyson,
Special contributor
Driving through central-western Virginia, tucked up at the base of the Blue Ridge Mountains, you pass endless white-board fences, horses grazing in pastures, vineyards and gated communities promising expensive homes, mostly in brick.
Many of these communities are part of a wider golf complex.
Keswick Estate, about 10 minutes from Charlottesville, Va., and 15 minutes from the University of Virginia, sitting on 690 rolling acres, is such a golf community. It is surrounded by a collection of large, scenic and historic farms and estates.
More than 100 acres is permanently dedicated open space laced with walking and hiking trails, while 140 acres are occupied by the Arnold Palmer signature golf course.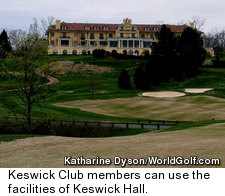 The centerpiece of the community is Keswick Hall and the Keswick Club, both sitting side by side on a crest overlooking the golf course. It's the kind of place where you expect people to walk quietly, have a go at billiards in the Snooker Room, dress in white for a croquet match, lounge by an infinity pool, take tea on the terrace and linger over a good book in the library.
And let's not forget convivial times in the paneled bar looking out over the course.
Formerly called "Villa Crawford" when it was built as a private home in 1912, Keswick Hall was purchased by Sir Bernard Ashley in 1990. He tripled its size and added Keswick Golf Club.
When Orient-Express Hotels acquired the property in 1999, they began selling homes and home sites in Keswick Estate, an idea first conceived by Ashley.
Keswick Estate real estate
Keswick Estate fits right into the pricey upscale neighborhood. Home sites range from 2 to 8 acres, the rolling terrain is planted with mature trees and flowering shrubs. Roads are purposely designed to wind subtly through the home sites to offer privacy and a sense of community.
Home designs are in no way cookie-cutter knock-offs. Each is architecturally distinctive with traditional being the favored style. To maintain the integrity of the neighborhood, owners must pass their plans through a rigorous architectural review process before building.
Sizes range from a 3,000-square-foot cottage to show homes of greater than 10,000 square feet. Some have golf or lake frontage, some are privately wooded, others are open with expansive views.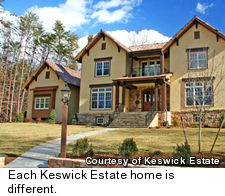 Home sites are selling from the mid $300,000s to the upper $800,000s and memberships are available in the Keswick Club. Owner financing is also being offered for a limited time. Homes, including the cost of the home site, begin at about $1.3 million.
When completed, the Keswick Estate neighborhood will consist of 124 home sites with no future plans or ability for expansion. There are no condos or townhouses.
There are currently 39 available home sites and two available custom homes. The balance of the 124 home sites have already been sold, although there are a few resales.
Sales activity through 2007 was quite strong. However thanks to the current economic conditions, sales have slowed, yet both the quality and quantity of inquiries and showings has increased dramatically over the last two to three months, according to Rives Bailey of Rives Bailey, Montague Miller & Co. Realtors, real estate marketing representatives for Keswick Estate.
"We're excited by what we are seeing," said Bailey.
Cary Brent Jr., director of estate development and sales, said, "Yes, the upper end of the market has sustained some portfolio damage, but eventually quality always wins."
"People choose to live here because of the lifestyle and proximity to Washington, D.C., and the ocean (two hours). Richmond is only an hour away. Charlottesville just down the road has a thriving university, a lively arts scene, rich historical heritage and excellent medical facilities."
Keswick Estate: The golf
The 18-hole Arnold Palmer Signature course formerly designed by Scottish immigrant Fred Findlay 70 years ago, spreads out below Keswick Hall, a 48-room, Tuscan-inspired hotel, once a private estate and the Keswick Club clubhouse, which both set on a crest.
When Palmer was brought in to renovate the track (reopened in 2007), he kept the good bones of the Finley layout while adding bunkers, contouring land and bringing greens up to USGA standards.
The course, which is private and only open to members, guests of members and those staying at Keswick Hall, is in superb shape, its Bermuda grass fairways and bent grass greens well-watered and lush. With five tee boxes, the course is fun to play for all levels of golfers.
Additional facilities at Keswick Estate
Keswick Club members have use of three swimming pools along with other facilities of the club.
Initiation is $21,000 for a golf membership, $12,000 for a social membership and dues are $450 to $250 a year. Currently there are 450 members in the club.
For more information, visit www.keswick.com.
Katharine Dyson is a golf and travel writer for several national publications as well as guidebook author and radio commentator. Her journeys have taken her around the world playing courses and finding unique places to stay. She is a member of the Golf Writers Association of America, Metropolitan Golf Writers of America; Golf Travel Writers Organization and Society of American Travel Writers.
August 28, 2009
Any opinions expressed above are those of the writer and do not necessarily represent the views of the management. The information in this story was accurate at the time of publication. All contact information, directions and prices should be confirmed directly with the golf course or resort before making reservations and/or travel plans.