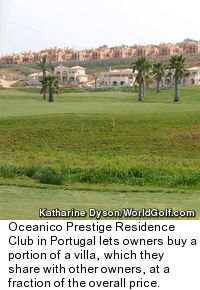 FAIRWAY LIFESTYLE
Oceanico Prestige Residence Club: Living the good life in Portugal for a fraction of the cost
By Katharine Dyson,
Special contributor
Fractional ownership at the Oceanico Prestige Residence Club in Portugal's Algarve region offers owners a taste of the good life for less. In addition to Amendoeira Golf Resort, members can also book space at the Obidos Resort near Lisbon, and resorts in Pinehurst, N.C., Hilton Head Island, S.C., Cobble Beach in Canada, and Waterford Castle in Ireland.
The villa on Portugal's sun-kissed, golf-loaded Algarve was selling for about $2 million, and developer Simon Burgess had a buyer. But the next day, when he came in to sign the deal, the buyer told Burgess, "My wife tells me I must be mad. Why would I pay $2 million for a villa we can only use two or three weeks a year?"
The buyer had another idea. He told Burgess he had five friends who would like to go in on the property with him. A deal was struck. Everyone was happy.
"Just think what we have," the ecstatic buyer said. "For about $433,000, we each own a share of a lavish, five-bedroom villa furnished with top-of-the-line furniture and appliances, a fabulous pool, use of the Sunseeker cruiser, spa, fitness center and all the golf we can play. You couldn't buy Oceanico's two-bedroom, unfurnished condo for that price."
The idea clicked with Burgess and his partner, Gerry Fagen, sparking a new product: the Oceanico Prestige Residence Club, geared to those who want to buy into the good life for a fraction of the cost, from about $65,000 up to $300,000.
Fractional ownership is very different from timeshares where you are purchasing a block of time. Fractional owners actually co-own the bricks and mortar and can rent, sell, will, deed, place in a trust or, hey, bet in a poker game.
"Our properties appeal to the more affluent crowd who are looking for more than just a specific time period," said Gary Hughes, sales associate for Oceanico. "You have all amenities of a high-end resort within a worry-free environment. If you want to close the door and go home or stay longer on a space available basis, you can do so."
Fractional owners are guaranteed pre-planned property use on a rotating basis for prime periods along with unlimited space-available use both at their home properties and at other Oceanico Prestige Residence Clubs for no extra cash (except a housekeeping fee and member's green fee when you're away from your home base).
That means besides Oceanico's Algarve properties, you can book space in Oceanico's Royal Obidos Spa & Golf Resort north of Lisbon as well as resorts in Pinehurst, N.C., Hilton Head Island, S.C., Cobble Beach in Canada, and Waterford Castle Hotel & Golf Resort in Ireland. On the radar is South Africa, Caribbean and Germany with more to come. Burgess explains they expect to have 10 properties completed by the end of this year with six more projected each of the subsequent years.
Oceanico is generous in its amenities. In the Algarve, you have free play on seven courses, concierge service, tennis and fitness centers, kids clubs, baby sitting, spas, soccer fields, lawn bowling greens and aerobic classes - everything you could possibly want for body, soul and mind.
"We quickly realized people were looking for a place where they could have it all," Burgess said. "Golf was huge in the Algarve, so we started acquiring and building courses. The Algarve? It's a no-brainer."
Playing up the Christy O'Connor course at Amendoeira, you will see a string of large, luxurious villas just being completed. It won't be long before new owners of these homes, like Lee Westwood, Padraig Harrington, David Howell, Retief Gooden, Paul McGinley and Darren Clarke, will come here on their holidays, play golf and sip fine Portuguese wine on their patios overlooking the courses and the Monchique mountains. These are your neighbors, whether you own an entire villa or a share in one.
With a portfolio valued at more than $5 billion, Oceanico Group is but 8 years old and solely owned by Burgess, who comes from a construction background and works on the development end, and Fagen, whose hospitality experience has landed him in operations.
The partners, who came from England and Ireland, first built Jardin da Meia Praia Resort, Estrela da Luz and Vila Baia targeting the high end of the leisure resort market. Ultimately the company is looking to have one third residential, one third fractional and one third senior living.
Oceanico's Algarve real estate
In the Algarve, Oceanico Prestige Residence Club's new resorts include Amendoeira Golf Resort, Belmar Spa & Beach Resort, Vilamoura Golf & Garden Resort. Each includes a mix of apartments, semi-detached villas and villas including larger homes with private pools set in gardens and smaller units with shared pools.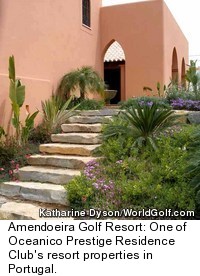 The sweeping entrance of Amendoeira Golf Resort leads into a $700 million golf resort on 640 acres with two designer courses, already completed and open for play.
Everywhere you look, construction crews are busy pouring cement, laying tile and finishing more than 431 units characterized by soft pink walls, red tile roofs and Moorish-inspired details like tiled garden courtyards, fountains, cobbled steps and archways.
Chalky, white four- and five-bedroom luxury villas come with private pools and enclosed gardens planted with lemon, orange and olive trees, and tropical flowers, while blush-coral two- and three-bedroom villas and apartments look over golf courses and hills. Enormous patios and balconies expand interior living spaces, which are furnished in the clean Euro tradition of function and style complimented by high-tech features.
Expansive window shades rise open and close with the push of a button, and top-of-the-line appliances, audio and sound systems, faucets, shower apparatuses, washer/dryer combos, stainless steel kitchen amenities and lighting are all ultra fashionable.
Whereas the pricing for single ownership in Oceanico's properties typically starts in the high $400,000s and goes up into the millions, fractional shares in Oceanico's Prestige Residence Club range from $132,000 to $297,000 for a one eighth share in Amendoeira Golf Resort.
Golf in the Algarve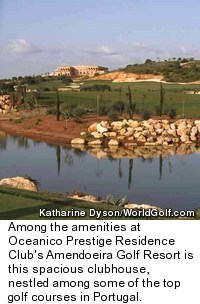 With 36 courses, golf is huge in the Algarve. Just ask Jose Dias, Portuguese-born pro at Vilamoura Victoria and one of Oceanico's best ambassadors - he often plays with owners and potential buyers.
Oceanico's seven golf courses include older tracks such as the umbrella pine-shaded Old Course (1969) and Pinhal (1976) designed by Frank Pennink as well as the Laguna, Millennium and the Arnold Palmer-designed Victoria course. New courses located at Amendoeira are designed by Nick Faldo and Christy O'Connor Jr.
"These two courses are very, very different," O'Connor said. "Mine is built on flat plains, while Faldo's is built into the hills. Two of my par fives are reachable in two - I still believe in eagles - a wonderful thing. A pity some designers are eliminating them."
Also at Amendoeira is a Golf Resort Academy and Callaway Fitting Suite along with the nine-hole, lighted Academy Course, perfect for beginners and those who want to polish up their short game.
If you're going ...
Annual management charges range from about $7,000 to $8,600 with green fees and the Sunseeker included. For those who don't want certain amenities, credit can be applied to the management charges.
I was there for the golf, but I vowed to return for the journey through historic cobbled villages Silves and Lagos, the little shops, a chance to linger with a coffee in an outdoor cafe and try fresh fish at local restaurants like Dom Sebastiao, Jorge do Pelxe and Fortaleza, a sinfully romantic spot hanging close to the sea.
For more information, see www.oceanicoresidenceclub.com.
Katharine Dyson is a golf and travel writer for several national publications as well as guidebook author and radio commentator. Her journeys have taken her around the world playing courses and finding unique places to stay. She is a member of the Golf Writers Association of America, Metropolitan Golf Writers of America; Golf Travel Writers Organization and Society of American Travel Writers.
April 3, 2009
Any opinions expressed above are those of the writer and do not necessarily represent the views of the management. The information in this story was accurate at the time of publication. All contact information, directions and prices should be confirmed directly with the golf course or resort before making reservations and/or travel plans.