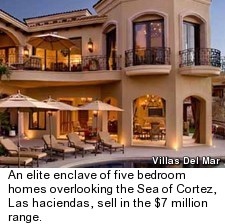 FAIRWAY LIFESTYLE
Down on Mexico's Baja Peninsula, Villas Del Mar is a high-priced golf haven
By Katharine Dyson,
Special contributor
Villas Del Mar, one of the most exclusive real estate developments on the Baja Peninsula, offers property owners five-star luxury and service, 27 holes of Nicklaus golf, and more.
Short of going into the Witness Protection Program, celebrities like Michael Douglas, Catherine Zeta-Jones and Bill Gates are challenged when they look for paparazzi-free places to play and stay.
So about 50 years ago, Palmilla, on the tip of the Baja Peninsula, opened with just 15 rooms offering a tropical sanctuary for a trickle of famous types like John Wayne and Ernest Hemingway.
Since then, Palmilla has grown. In the early '90s, Palmilla brought in Jack Nicklaus to design 27 holes terraced up and down the hills punctuated by Cardon cacti and plunging arroyos - a must play for visiting golfers.
Today, large wooden gates open to a number of enclaves where homes and villas are typically priced in the millions.
One of the most exclusive, Villas Del Mar (by Del Mar Development), marries five-star luxury with five-star service, a key to its success. Homeowners have access to a private chef, concierge, butler and housekeeping services. Whether it's picking up their mail, making tee times or providing pre-arrival grocery shopping, all they need do is ask.
Villas Del Mar real estate
In Villas Del Mar, property costs range from $2.4 million to $7 million, the price residents are willing to pay for privacy, peace and delicious pleasures and services such as meals prepared by an in-house chef, aromatherapy massages by private pools and membership in Club Ninety Six, an exclusive beach club.
Residents also enjoy golf and amenities at the posh One & Only Palmilla Hotel next door.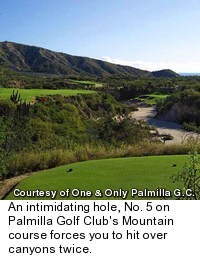 Richard Wood, sales associate for Snell Real Estate, who is also an avid golfer and member of the Palmilla Golf Club said, "Sales have slowed up a little this past year, but our activity continues to be healthy. I just sold a $2.2 million casita, and other sales are soon to be finalized."
Villas Del Mar is the brainchild of Houston businessmen Ron Hatfield and the late Ken Schnitzer, who came to Los Cabos about a dozen years ago. After playing Palmilla's Nicklaus course, they liked the place so much, they bought a ribbon of land in the 1,000-acre Palmilla development and broke ground in 1996 for six villas of 6,200 square feet.
Crafted with creamy quarry columns, arches, balustrades and airy indoor/outdoor living spaces, these architectural gems were sold before they were finished. More land was acquired, and more villas were built.
The second phase of 30 beachfront homes priced from $1.2 million to $1.8 million also sold quickly, and re-sales now list at more than $5 million.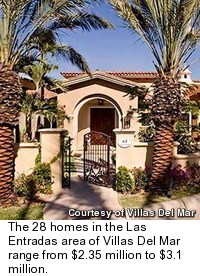 Colonial Mexican architecture - white exteriors with red tile roofs and travertine floors - characterize Las Haciendas, an elite enclave of just 14 five-bedroom homes with up to 5,300 square feet of living space indoors and 6,500 square feet outdoors. Situated on a mountainside above the sea, these villas are selling from $7 million. And that would be unfurnished.
For $2.35 million to $3.1 million you can unpack in one of the 28 one-story, four-bedroom homes of Las Entradas skirting the fairways of Palmilla Golf Club's Nicklaus' Ocean nine. Sprawling terraces and windows capture views of the sea, mountains and fairways.
Las Casitas Atlas, 10 four- and five-bedroom homes priced from $5.4 million, are strung along the mountainside and celebrate stunning ocean views. They come with luxuries like infinity pools, outdoor grilling areas and enormous terraces.
The newest community, Espiritu Del Mar, sits on 78 mountainside acres overlooking the sea. Six of the projected 36 homes in the first phase have been sold and are under construction.
When completed, Espiritu Del Mar is projected to have 100 homes with prices at $3.75 million to $7 million. Additional facilities include Club Espiritu surrounded by botanical gardens, an expansive health and fitness center and a hilltop meditation sanctuary.
Villas Del Mar: The golf
Just outside the gates of Villas Del Mar is Nicklaus' One & Only Palmilla Course which opened in 1992, setting a high bar for courses to come.
Named "one of North America's finest golf properties" by Golf Digest, the three nines, Mountain, Arroyo and the newest, Ocean, which Nicklaus described as designing "mountains by the sea," are used as the venue for the PGA Senior Tour's annual Senior Slam.
Courses ride over steep mountain terrain with elevation changes of more than 600 feet on Ocean from holes No. 1 to No. 6; Mountain's hole No. 3, a par 4, charges 470 yards uphill.
There is sand everywhere on all nines, where sprawling bunkers and scrubby arroyos vie for attention. Great blankets of tropical flowers spread over the landscape, framing the fairways and greens adding to a visual feast of mountains, beach and the sea.
Fairways are wide and the greens generous, but miss the fairway or the green, and you're likely to plunge off the playing surface into a nasty arroyo below. Take the 560-yard Arroyo No. 7 hole where you play alongside a deep, treacherous arroyo.
Forced carries are typical. Mountain No. 5, regarded as one of the best holes of the 27, is one of Wood's favorites. "It's intimidating," he said. "You're hitting over a canyon to the fairway, then over another canyon to the green."
Wood adds, "It's a great recreational golf course. There are at least four incredible holes on each nine, and the others are also very good."
The course was renovated under the direction of Nicklaus in 2008, where attention was given to redoing bunker complexes and greens.
Five sets of tees make the course a fun play for high, as well as low, handicappers. Arroyo/Mountain plays 6,939 yards, Mountain/Ocean plays 7,036 yards and Ocean/Arroyo plays 6,771 yards.
Nicklaus, happy with what he wrought, said, "We've designed one of the most spectacular courses I've ever seen."
Villas Del Mar: Renting and memberships
Guests willing to pay $2,300 (one bedroom) to $7,000 (six bedroom) a night can buy a slice of this elite lifestyle through Villas Del Mar's rental program.
Your rental fee includes private butler service, private chef for breakfast and lunch, golf cart, private pool, use of Fitness Center, and access to the facilities and amenities of the One & Only Palmilla resort next door.
Memberships in the Palmilla Golf Club are $27,500 for initiation and $5,700 annual dues plus tax for a family. Non-members staying at Villas Del Mar pay green fees of $190 to $210.
For more information, see www.villasdelmar.com, www.snellrealestate.com or www.villasmarketing.com.
Katharine Dyson is a golf and travel writer for several national publications as well as guidebook author and radio commentator. Her journeys have taken her around the world playing courses and finding unique places to stay. She is a member of the Golf Writers Association of America, Metropolitan Golf Writers of America; Golf Travel Writers Organization and Society of American Travel Writers.
June 4, 2009
Any opinions expressed above are those of the writer and do not necessarily represent the views of the management. The information in this story was accurate at the time of publication. All contact information, directions and prices should be confirmed directly with the golf course or resort before making reservations and/or travel plans.