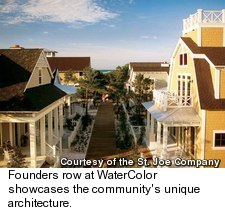 FAIRWAY LIFESTYLE
WaterColor community paints the good life in Florida
By Katharine Dyson,
Special contributor
Not everyone wants their luxury pad in the Florida sun to be in posh places like Palm Beach or Naples.
Jacksonville-based developer St. Joe Company knows this and has focused its coastal efforts in another direction with WaterColor, WaterSound and Wild Heron west of Panama City, where more than 50 percent of the land is reserved as open space and preservation areas.
Attracting well-heeled golfers, second-home owners and retirees looking for something a little different and more laid back, St. Joe's WaterColor community is lined by a string of charming seaside villages that seem more Chatham-like than north Florida. Separated by long stretches of undeveloped and protected beach and dunes, St. Joe's 499 acres run along coastal dunes just east of Grayton Beach on the Gulf of Mexico midway between Destin and Panama City Beach.
This St. Joe's property is so pristine even the street lights, which are supposed to illuminate the brick walks, are designed to be purposely low so as not to interrupt the starry skies. I know, I trained the light of my cell phone on the sidewalk on a particularly dark night stroll to a local restaurant.
The fact you can walk to shops, restaurants, offices, beach, parks and the Town Center adds to the charm and chic sophistication of this pedestrian-friendly community where a whole boatload of facilities and amenities historically found in small towns, are available in addition to golf at Camp Creek Golf Club, Shark's Tooth Golf Club and the unique Origins Golf Club.
WaterColor real estate
Southern traditional meets contemporary function in WaterColor with details like porches, balconies, porches, fences, a mix of roof styles, pastel exteriors and mullioned windows. Some homes even have "crow's nests" atop the roofs where residents enjoy great views of the Gulf of Mexico.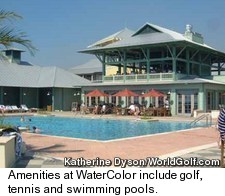 WaterColor's seven neighborhoods, Gulf, Beach, Park, Lake, Cottage, Crossing and Camp District, are laid out in a logical grid street system with alleys providing access for utility services and sidewalks encouraging walking to visit neighbors and public areas.
When completed, there will be 1,016 homes ranging from the smallest, Beach with 27 homes to Crossing with 256 homes. WaterColor also offers multi-family residences and fractional units, called PRCs. Although most of the original inventory has been sold in Park and Lake, St. Joe has 124 single family homes, 24 multi-family residences and107 homesites in the Crossing district. Some PRCs are also still available.
From the onset in 2000 where promotional efforts targeted second home buyers and retirees in Atlanta, Birmingham, Ala., Dallas, Houston and New Orleans, sales have gone well, and 473 residences are already constructed. Today, there are a number of resales available, and given the current market, this seems an ideal time to jump in and snap up one of them.
Single family home prices range from $575,000 to $4.6 million; multi-family homes $599,900 to $2.5 million; home sites $96,000 to $1,495,000 and fractional vacation units $170,000 to $185,000.
WaterColor's golf courses
Camp Creek, a "dunescape" course designed by Tom Fazio - amazing what you can conjure up from marshy, snarly flat land under the hands of a talented course architect and a bundle of money — is characterized by huge undulating greens, wetlands and plenty of bunkers filled with white, fluffy sand. Playing 7,151 yards from the tips, the course is designated as a Certified Audubon Cooperative Sanctuary by the Audubon Cooperative Sanctuary System.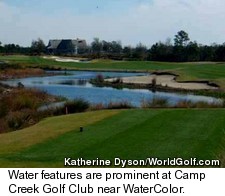 Camp Creek challenges with several carries over wetlands and water, often complicated by wind, particularly on holes that run along the coastal areas. Inland, the elements are usually kinder. When the course first debuted in 2001, it was open to the public. Now, it is private for use of members and guests of WaterColor Inn, and WaterColor and WaterSound Vacation Rentals. Camp Creek Golf Club has been ranked 10th in Golfweek's annual "America's Best State-by-State" survey.
Shark's Tooth, a Greg Norman track at the Wild Heron community, was named one of Golf Week's "America's Best Residential Courses." Set on the shores of Lake Powell, it plays 7,209 yards from the back winding around wetlands and estuaries. Punctuated by live oaks and loblolly pines, Golf Digest voted Shark's Tooth the "No. 5 Best Golf Course in all of Florida for 2005."
Origins rolls out an old concept with a new twist: a six-hole regulation course that can be played as a nine-hole executive course and a 10-hole par-3 layout. Designed by Davis Love III to be kind and fun to beginners, casual golfers and for those who have limited time, Origins is consistent with the Scottish origins of the game, in which six-, nine- and 12-hole courses were commonplace. Gently rolling fairways bordered by native grasses respect the natural terrain, while bunkers constructed of steep stacked sod evoke the Scottish links courses.
WaterColor guests and rental rates
Guests renting one of the one-to-six-bedroom homes, or staying in the WaterColor Inn, enjoy the amenities of the Lodge (except Member areas), including preferred tee times. Green fees are $150.
Other Facilities
There is a Gulf-front BeachClub with kayaks, pools and a tennis center, WaterColor Workout fitness center, BikeBarn, a 60-room boutique beachfront hotel, the WaterColor Inn, designed by David Rockwell and the Fish Out of Water restaurant overlooking the Gulf. An amphitheater overlooks Western Lake and the InnSpa. WaterColor is adjacent to Grayton Beach State Recreation Area offering plenty of opportunities to view wildlife and explore.
For more information on WaterColor
Visit www.watercolorresort.com, www.campcreekgolfclub.com and wwwl.sharkstoothgolfclub.com.
January 2, 2009
Any opinions expressed above are those of the writer and do not necessarily represent the views of the management. The information in this story was accurate at the time of publication. All contact information, directions and prices should be confirmed directly with the golf course or resort before making reservations and/or travel plans.