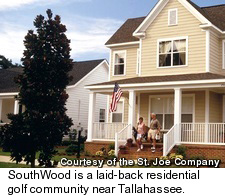 FAIRWAY LIFESTYLE
SouthWood golf community near Tallahassee, Fla. brings back a taste of Americana
By Katharine Dyson,
Special contributor
Close to the heartbeat of Florida's state capital in the college town of Tallahassee, SouthWood, a development by the Jacksonville-based St. Joe Company, is set on a portion of the 850,000 acres acquired in the 1930s by A.I. duPont, once irreverently referred to as the "black sheep" of this illustrious family. When duPont bought the land, primarily in northwest Florida, he picked it up for $1 an acre. So much for black sheep.
A 3,200-acre master-planned community, SouthWood is a 180-degree turn from the glitz, glamour and hype of Naples and Palm Beach. Evoking Old Florida, its landscape is graced by rare moss-draped live oaks and Slash Pines shading the fairways and grounds.
SouthWood's semi-private golf course comes with an excellent pedigree: a collaboration between PGA Tour star Fred Couples and architect Gene Bates. Named to Golf Digest's list of "America's Best New Courses," SouthWood, a Billy Casper-managed operation, is one of the region's top tracks.
Single-family homes, town houses and apartments are designed in the southern craftsman and bungalow styles with details like tin roofs and front porches enhanced by hanging flower baskets and railings. Residents socialize with family and friends on porches; garages are located near the back.
The golf clubhouse has a low-country feeling with a wide wrap-around veranda, while tall Charleston row-house style homes with narrow lot lines march along the second fairway.
"You won't see stucco or Mediterranean homes here," says Scott Russell, sales agent for the Naumann Group, who are selling the remaining lots and estates in the San Martin section, one of the newer neighborhoods in the community. Homes there are situated not only along the golf course, but adjacent to an 11-acre archeological site preserved as a conservation area.
The buzz words "New Urbanism" communicate a sense of traditional Americana neighborhood and a reconnect to the land and the people. Sidewalks and smart planning provide easy access to the town center, shops and recreational facilities. Indeed, from many of the homes you can walk to the golf course and into town to join friends for a cup of coffee or lunch at Sharkey's or Hustons.
With more than 1,000 acres of parks, woodlands and ponds populated with an assortment of wild life from herons to egrets, recognizing a person's need to reconnect with the outdoors, St. Joe has constructed a number of trails and bike paths throughout the community.
A 123-acre park and lake is a gathering place, along with the Community Center, which boasts offices, tennis courts and swimming pools. The Town Center, which is underway, will have specialty shops, restaurants and professional offices. Opening in August is Leon County's newest elementary school, the J. Michael Conley Elementary School at SouthWood.
Real estate at Southwood
SouthWood is about 30 percent completed, with a projected build-out date of 2025. About 4,770 homes are planned, a combination of single family custom homes, townhomes and apartments, many sited along the golf course.
A multigenerational community, SouthWood has young professional families as well as retirees, many who have moved in to be near their kids. "People come here because of the easy lifestyle," says Rick Jackley, community association manager. "We have a lot going on — nature programs, holiday parties, pool celebrations. They're all well attended."
Of the original 50 lots in the San Martin section, half are already sold. Prices range from $115,000 to $170,000 for a half to a full acre. Custom homes ranging in size from 2,300 square feet to 3,000 square feet sell from the mid $400,000s and up.
Elsewhere in SouthWood, single-family homes are available from $179,000, while town homes start at $169,000. In the Woodland Fields neighborhood, for example, David Weekley Homes is offering a cottage series starting in the $340s ranging from 1,900 to 2,900 square feet. Typical features include three bedrooms, three bathrooms, a children's retreat, a formal living and dining room and an open kitchen that overlooks the family room.
In David Weekley's Manors collection, homes priced from $430,000 and ranging from 2,600 to 3,400 square feet give you a choice of one or two-story floor plans including a separate owner's retreat, formal dining, covered porch and study options.
In the Oak Park neighborhood across from SouthWood's Town Center, preconstruction prices start in the low $200s for two- and three-bedroom town homes. For example, The Jefferson, which is 1,889 square feet heated and cooled, has three bedrooms, with the master on the main floor, three-and-half bathrooms and a two-car garage. This two-story floor plan offers an optional carriage house over the garage.
The 1,551-square-foot Madison has two bedrooms, with an optional third bedroom, two-and-half bathrooms, a two-car garage and an optional carriage house over the garage.
Sales are holding up in spite of the real estate slowdown," Russell says. "Considering the market, I think we are doing well."
Golf at Southwood
Playing 7,172-yards from the tips, the SouthWood course meanders over gentle rolling hills, through wooded areas and open land. With five sets of tees, including the 2,986-yard "Wee Tees," the course provides an enjoyable round of golf for all skill levels and is the home course to the Florida State University Men's and Women's Golf Teams.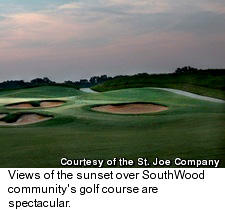 Opening in November 2002, the course was ranked one of the "Top 50 Courses for Women" by Golf For Women and named among the top-10 layouts of the new millennium by Travel + Leisure Golf. SouthWood was also named Tallahassee's best golf course by Tallahassee Magazine.
Leather sofas, a fireplace and high windows and patio that look out over the ninth and 18th greens set the tone in the clubhouse, while Chef McQuaig's cuisine has attracted a following not just among golfers, but among those who think "pie" when they hear "wedge" and "chip" as in "potato." One guy I know whose father is a grouper fisherman claims McQuaig's blackened grouper is the best he's ever had.
"We've tried to incorporate some regional foods like crawfish po'boy and mahi mahi BLTs, which fly out the door," says Barbara Baeringer, food and beverage manager. "We want to keep the quality and selection a notch above the ordinary to attract not only golfers, but people in the community," adds Baeringer.
Semi-private, individual and family memberships in the SouthWood Golf Club are available with initiation fees set at $2,500 and $3,500. SouthWood residents receive a $500 break on the fee. Dues are $204 and $260 a month while non-member green fees are $55-$75 including a cart.
A group of on-site cottages are available to rent.
For more information, see www.southwoodflorida.com.
Katharine Dyson is a golf and travel writer for several national publications as well as guidebook author and radio commentator. Her journeys have taken her around the world playing courses and finding unique places to stay. She is a member of the Golf Writers Association of America, Metropolitan Golf Writers of America; Golf Travel Writers Organization and Society of American Travel Writers.
June 19, 2008
Any opinions expressed above are those of the writer and do not necessarily represent the views of the management. The information in this story was accurate at the time of publication. All contact information, directions and prices should be confirmed directly with the golf course or resort before making reservations and/or travel plans.