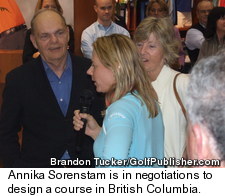 NEWS
Annika Sorenstam eyeing West Kootenays for first Canada course design
By Chris Baldwin,
Contributor
Annika Sorenstam is in negotiations to design a new high-end golf course in the West Kootenays region of British Columbia, sources told GolfCourseRealty.com.
Sorenstam would design the golf course for Red Mountain Ventures, which operates a ski resort with home sites in Rossland, British Columbia, and has been looking to get into the golf business. When asked directly if Sorenstam will design a course for Red Mountain Ventures, the company's director of planning and development, Don Thompson, confirmed the talks.
"It's something we're considering," Thompson said, adding that the company wants to keep details of the deal "under wraps for the moment."
"As the process develops, we'll have more to say down the road. We still have a ways to go, though."
Sorenstam did not return phone calls seeking comment through her representatives.
The Red Mountain property would be Sorenstam's first course design in Canada and only her fourth overall as the former long time No. 1 player in women's golf transitions more into course architecture. Red Mountain has tried hard to keep Sorenstam's name away from the project until an official announcement. Respected Canadian golf course architect Thomas McBroom was hired to do the pre-feasibility analysis of the land.
Still, none of this has halted the buzz in this mountain community of around 3,200 people over one of the biggest names in women's golf designing a course here. It's not easy to keep a secret like Sorenstam in such a small town.
"I've heard the rumors that Annika Sorenstam is going to design a course for Red Mountain," local developer Cary Fisher said. "I think it's spectacular for the area. To get a big name like Annika Sorenstam in here can only boost the whole area as a golf destination."
Thompson confirmed that Red Mountain would want its golf course to be an attention grabber.
"Our studies have shown that this region could use a very high-end golf experience," Thompson said. "A golf center for the region that could further build destination appeal. Rossland is a budding overall destination - it's already there as far as skiing in North America, if not the world - and a signature golf course could be the next step."
It's hard to imagine many better headline grabbers than one of Annika Sorenstam's first course designs.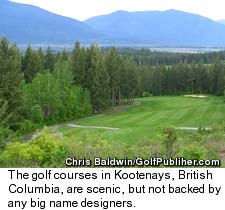 Sorenstam has shown an affinity for Canada in her pro career. She recently played in the Scotiabank Women's Charity Challenge in Toronto, which raised $265,000 for women's charities, for the second straight year.
Thompson said if the feasibility analysis on the land comes back favorably, a formal approval application would likely be submitted to the local authorities before Christmas. Red Mountain Ventures would have to purchase more land for the Sorenstam course, but Thompson said they have an exclusive opportunity to buy the land in question for further development under prior ski resort dealings.
"We're trying to do everything the right way and not upset anyone in the community," Thompson said. "We don't want to come to people with this until we've done all our analysis and environmental studies."
The Sorenstam course at Red Mountain would be the second major golf course project in Rossland. Redstone Resort is in the process of finishing up a reconstruction of a historic nine-hole course, turning it into an 18-hole resort layout that has 10 completely new holes (one of the original nine will be turned into a new driving range). Prolific Canadian architect Les Furber is the lead designer at Redstone.
Both Redstone and Red Mountain include home and condo developments, with properties often used as vacation homes. The West Kootenays has long tried to build up its reputation as a golf destination to keep visitors coming when the snow stops falling. Even with courses such as Christina Lake, with its distinctive black copper slag bunkers, the Kootenays has long been overshadowed by other British Columbia golf hotspots such as Whistler, the Okanagan Valley and Banff.
Having one of Annika Sorenstam's first golf courses might help change that.
Sorenstam's other golf course designs are Mission Hills in China, which opened in 2003, Euphoria Gold Estate in South Africa and Patriots Point Link in Mount Pleasant, S.C., which are both still in the works. She's attempting to become the first high profile woman course designer.
"I don't know why there aren't more women course designers," Sorenstam said in an exclusive interview earlier this year. "That's a good question, one of those things in golf that doesn't make a lot of sense. I've heard it said that women wouldn't know how to design a course from the back tees. Which, again, doesn't make a lot of sense.
"We're not playing from the front tees on the LPGA. Plus, women are the fastest-growing segment in golf. You would think that some courses would want to take advantage of that."
October 10, 2007
Any opinions expressed above are those of the writer and do not necessarily represent the views of the management. The information in this story was accurate at the time of publication. All contact information, directions and prices should be confirmed directly with the golf course or resort before making reservations and/or travel plans.