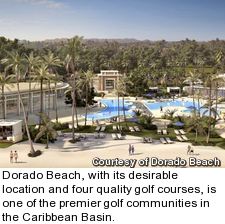 REAL ESTATE
Puerto Rico's Dorado Beach has a Ritz-Carlton Reserve and so much more
By Larry Olmsted,
Special Contributor
There are lots of golf resorts and communities throughout the Caribbean, but there is only one Dorado Beach.
It is the largest golf development in the islands, with four 18-hole golf courses, all designed by Robert Trent Jones, Sr. The resort has had some ups and downs, with several changes of ownership and multiple hotels, but it has been chugging along as a popular vacation and second-home destination in one form or another for more than half a century.
Now it's enjoying a renaissance.
Laurance Rockefeller originally acquired the oceanfront land here, on the northeast coast of Puerto Rico, and built the Dorado Beach Hotel & Golf Club, part of his Rockresorts empire. That is the reason for the Robert Trent Jones, Sr. connection (Rockefeller always used the architect for his Rockresorts, from Mauna Kea in Hawaii to the Woodstock Inn in Vermont, and again here in Puerto Rico).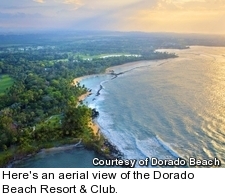 Eventually his hotel became the Hyatt Dorado Beach, and Hyatt built a sibling next door called Cerromar, each with two golf courses. These days they are all part of the Dorado Beach Resort & Club. The marquee layout, the Dorado East Course, is currently being renovated by Robert Trent Jones, Jr., and it will reopen in November 2011.
The "championship" layout has been stretched to more than 7,200 yards, and trees were cleared to re-establish its oceanfront finish on holes 15-18. The strong West Course will be renovated next year, and the two former Cerromar courses have been renamed Plantation Sugarcane and Plantation Pineapple. While they are more inland and tree-lined (mostly palms), both have several oceanfront or pronounced ocean view holes, and stretch 7,000 yards or more. The Plantation complex just received a new $5 million clubhouse.
Second-home options at Dorado Beach
As a result of all the different entities that have been here, there are myriad second-home options, and Dorado Beach has long been popular with Americans as well as well-to-do San Juan residents as a golf vacation enclave. One of the biggest attractions is Puerto Rico itself -- all the charm, weather and flair of the Caribbean with the security, comfort and familiarity of U.S. laws, language and dollars.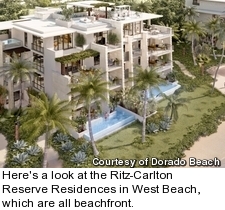 The biggest news here is the opening of the new Ritz-Carlton Reserve, an even more high-end boutique resort brand from the five-star chain.
Besides the 115-room hotel, Dorado will see the launch of Ritz-Carlton Reserve Residences in two sections, West Beach and East Beach. These will include a total of 93 two- to four-bedroom condos, all beachfront in West Beach, priced from $2.4 million to $5.3 million; 22 three-bedroom townhomes along the golf courses in East Beach, for $2.3 million; and two exclusive two-story villas, each on more than half an acre of beachfront land, with four bedrooms and spanning 6,000 square feet for $7.2 million to $7.8 million.
Despite the high prices, the first phase of 13 condos at West Beach, scheduled to open along with the hotel in late 2012, has long been sold out, and the next phase is going fast. The residences get full use of the resort facilities, including the restaurant, a lavish new beach club and a spa.
The ultra-luxury Ritz-Carlton Reserve properties are the top of the market in Dorado Beach, but there are plenty of other options.
The resort began developing another 212 three- and four-bedroom condos in 2007. Sixty are completed, with 24 still available at a price of just more than $1 million. Averaging $437 per square foot, they are priced at about a third of the Ritz-Carlton condos.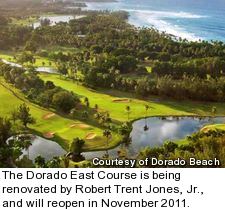 In Dorado Beach East, the premier golf section of the resort, there are 350 lots for one- to two-story estate homes, some of which have been there for more than 15 years. There are 335 built, with 15 on the market from $1.3 million to $2 million (most closer to $1.3 million). While larger, with three to five bedrooms and spanning 4,000 to 6,000 square feet on large lots (up to half an acre), these are the most affordable per-square-foot option, at $387.
For those on more down-to-earth budgets, there are a variety of older developments at Dorado that are not formally part of the golf club, including several around the Embassy Suites resort, which used to be the Hyatt. These include older and more generic condos in sub-developments with less common amenities. The two-bedroom units are priced from the high $200,000s, and three-bedroom villa homes are priced from the high $400,000s.
Dorado Beach, with its desirable location and four quality golf courses, is one of the premier golf communities in the Caribbean Basin and offers something for almost every second-home buyer.
Larry Olmsted has written more than 1,000 articles on golf and golf travel, for the likes of Golf Magazine, T&L Golf, LINKS, Golf & Travel, Men's Health, Men's Journal, USA Today, and many others. He broke the Guinness World Record for golf travel and wrote Getting into Guinness, as well as Golf Travel by Design. He was the founding editor of The Golf Insider, and the golf columnist for both USA Today.com and US Airways Magazine.
October 3, 2011
Any opinions expressed above are those of the writer and do not necessarily represent the views of the management. The information in this story was accurate at the time of publication. All contact information, directions and prices should be confirmed directly with the golf course or resort before making reservations and/or travel plans.