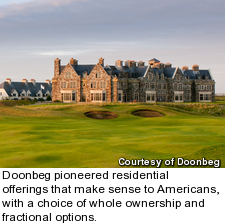 FEATURE STORY
Golf real estate: Two tastes of Irish lifestyle
By Larry Olmsted,
Special Contributor
While we think of the golf course community as an American phenomenon -- and it certainly is widespread on our shores -- the concept actually started in the British Isles, outside London to be precise, at St. George's Hill, where a forward-thinking developer first paired residences and fairways, leveraging a still-impressive Harry Colt design.
His great success quickly paved the way for more famous nearby imitators, pricy Sunningdale and Wentworth, which today attract celebrities and international second-home buyers.
But it has taken more than a century for the idea to gain traction on the other side of the Irish Sea, and only recently are there viable second-home golf options for Americans who have always dreamed of owning a bit of blarney.
Golf course real estate in southwest Ireland
In the Republic of Ireland, the most desirable area is the Southwest, home to Ballybunion, Waterville, Tralee, Lahinch and Doonbeg. It is the latter that pioneered residential offerings that make sense to Americans, with a choice of whole ownership and fractional options, both in villa/home configurations and as hotel-style room, all of which can be rented out to generate income and offset ownership costs when not in use.
All options are in or immediately around the Lodge at Doonbeg, which is simply a fantastic boutique hotel and among the very finest golf course accommodations on earth. The castle-like structure sits on the edge of the sea -- adjacent to the first tee and 18th green of the Greg Norman-designed Doonbeg Golf Club -- on an amazing piece of property, towering dunes on a crescent shaped bay. Both the golf course and Lodge are the work of Kiawah Partners, the very successful original developers of the 90-hole Kiawah Golf Resort and the private 36-hole Kiawah Island Club. For full ownership there are a handful of Lodge Suites, which double as luxury hotel rooms in the main building, from $750,000-$1 million and some courtyard suites, which are across the parking lot, for $500,000-$1 million.
The fractional program is managed by the Timbers (www.timbersresorts.com), a very well regarded, Colorado-based company that has several top-tier fractional, whole ownership and hotel-style ski and golf resorts, including One Steamboat Place and the Residences at Esperanza in Los Cabos. Their Doonbeg product is called the Links Cottage, a four-bedroom unit sold in 1/10 shares for €197,000 or about $264,000. Ownership includes a slate of benefits at other Timbers locations. Currently eight cottages are available.
Lough Erne: The newest thing in Irish golf real estate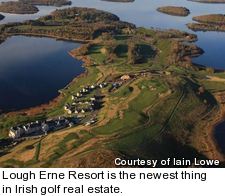 The newest thing in Irish golf is teenage superstar Rory McIlroy, and the newest thing in Irish golf real estate is across the border in Northern Ireland at Lough Erne, McIlroy's home course -- his parents have a house here. I am not a fan of new inland courses in Ireland or Scotland, but this is the best I have seen, a stunning Nick Faldo design that has lots of bunkers, elevation changes and water, all with Augusta quality stone bulkheading at every turn. To be fair, it has quite a bit of links flavor, right in the middle, when the routing climbs into high, treeless fields overlooking the lake and the rest of the course. It is less than two years old, and also includes the nondescript 40-year old Castel Hume course next door, making it sort of a 36-hole facility. The two are set apart, and everything in the Lough Erne part -- including a posh clubhouse, luxury hotel and deluxe rooms scattered in little castle-like stone villas around the property -- is new as well.
The resort is in Enniskillen, within a reasonable drive of the lesser-known but still great links courses of Counties Sligo and Donegal, such as Rosapenna, Rosses Point, Nairn, and Ballyliffin. It is also a relative bargain: the ownership options are all large, new, freestanding single family homes, with three-bedroom, 1,750-square-foot models at £360,000 or $570,000, and four-bedrooms with 2,400 square feet for £395,000 or $625,000. All include a family life membership for two adults and two children under 18, a £30,000 value, leaving annual family golf dues of just £15,000. Buy one, and maybe you can enjoy the Luck of the Irish.
Larry Olmsted has written more than 1,000 articles on golf and golf travel, for the likes of Golf Magazine, T&L Golf, LINKS, Golf & Travel, Men's Health, Men's Journal, USA Today, and many others. He broke the Guinness World Record for golf travel and wrote Getting into Guinness, as well as Golf Travel by Design. He was the founding editor of The Golf Insider, and the golf columnist for both USA Today.com and US Airways Magazine.
December 15, 2010
Any opinions expressed above are those of the writer and do not necessarily represent the views of the management. The information in this story was accurate at the time of publication. All contact information, directions and prices should be confirmed directly with the golf course or resort before making reservations and/or travel plans.