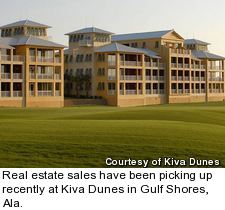 REAL ESTATE
Looking for a great second home in a golf resort development? Gulf Shores, Alabama is a sure bet
By Larry Olmsted,
Special Contributor
In recent years Alabama golf has become best known for the extensive Robert Trent Jones Golf Trail, a collection of 468 holes spread across 11 complexes throughout the state.
The trail has been a huge success for residents, part-timers and visitors who flock to Alabama to play golf.
But for those looking for second homes that combine golf with the state's tiny stretch of coastline and sugar white sand beaches, buyers look south to Gulf Shores.
Alabama has just 53 miles of shoreline, and much of that is the interior of Mobile Bay -- all on a tony protrusion between the Florida Panhandle and the Mississippi border. The southernmost spot on this coastline, at the terminus of Route 59, is Gulf Shores, a long-popular seaside resort area closer to Pensacola than Mobile, though easily accessible from both airports.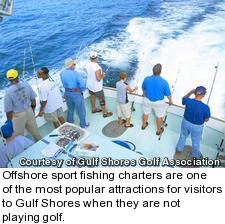 For Alabamans seeking the beach, fishing, boating and the famed seafood of the Gulf Coast, Gulf Shores is easily the top destination.
Gulf Shores is also popular for golfers. It's home to several real estate and golf resort developments. The big three are Kiva Dunes, Craft Farms and the Peninsula Golf and Racquet Club, which all have a mix of lots, homes and condominiums. A fourth, Lost Key Golf Club in Pensacola, Fla., is nearby.
Two others, Rock Creek Golf Club in Fairhope and TimberCreek Golf Club in Daphne, are less than an hour away. The Robert Trent Jones Golf Trail also has two complexes within reach of Gulf Shores: Lakewood Golf Club in Point Clear (a 36-hole facility about 20 miles away) and Magnolia Grove (with 36 holes and an 18-hole short course) just outside Mobile.
The area's top course is Kiva Dunes, a Jerry Pate design and the only beachfront resort layout in Alabama. Kiva Dunes has been named one of "America's Best Resort Courses" by Golfweek magazine.
"What separates Kiva Dunes from the other resorts are the quality of the golf course and the actual links style of play," said Tim McCrory, director of real estate sales at Kiva Dunes. "The wind and pin positions affect the nature of play so much that the course plays differently almost every time you tee it up."
The golf course is located on the Fort Morgan Peninsula -- 70 percent of which is protected land -- and the course itself is part of the National Land Trust and free from encroachment. The site has a huge, continuous dune running parallel to the development's 3,000 feet of shoreline. Kiva Dunes boasts a wealth of other activities, from biking trails to canoeing and kayaking to inshore and offshore fishing.
Sales have been picking up recently. While Kiva Dunes has about 150 single-family homes, there are just 15 for sale at the present time. Lots start at $75,000 and go to $750,000 (for a lot of two acres or more that fronts the Gulf). Homes range from $320,000 to $3,000,000, while condos run from $260,000 to $700,000.
While Kiva Dunes attracts a lot of second homeowners, the majority at Craft Farms and the Peninsula Golf and Racquet Club are primary residences and include many retirees.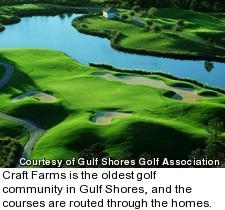 Craft Farms is Gulf Shores' oldest and largest planned community. It has two golf courses: Cotton Creek and Cypress Bend. The development has more than 400 homes, and only 22 are currently for sale. Craft Farms is considerably less expensive than Kiva Dunes, despite having more golf, with lots from $59,000, condos from $100,000 and homes from $258,000. The newer Craft Farms North community, with its own HOA, is even cheaper, with lots from $22,000 and homes from $218,000 (there are no condos).
Peninsula Golf and Racquet Club sits between Kiva Dunes and Craft Farms in both size and price, with one golf course and more than 200 residential units. There are 20 homes currently for sale, with lots from $40,000, condos from $219,000 and homes from $289,000. Rock Creek and Timber Creek are both slightly less, with homes from the low to mid $200,000s. Lost Key is by far the priciest in the region, with homes starting at $469,000.
Another alternative is to buy beachfront property in Gulf Shores outside of these communities, since most of the courses, including Kiva Dunes and the Robert Trent Jones Golf Trail layouts, are open to the public.
There is also a traditionally strong rental market for beachfront properties, which can help buyers offset their investment when they are not using them.
"Our sales staff has happily seen a nice increase in both the number of closings and rental revenues in 2011. The vacation rental market has rebounded beautifully after the anomaly that was 2010. Condo rentals area proving stronger than home rentals, which we attribute to the U.S. economy remaining tight," Emily Eiland Gonzalez of Kaiser Realty said.
Currently, waterfront condos in Gulf Shores begin at $210,000 with lots from $450,000 and homes from $649,000.
Larry Olmsted has written more than 1,000 articles on golf and golf travel, for the likes of Golf Magazine, T&L Golf, LINKS, Golf & Travel, Men's Health, Men's Journal, USA Today, and many others. He broke the Guinness World Record for golf travel and wrote Getting into Guinness, as well as Golf Travel by Design. He was the founding editor of The Golf Insider, and the golf columnist for both USA Today.com and US Airways Magazine.
June 21, 2011
Any opinions expressed above are those of the writer and do not necessarily represent the views of the management. The information in this story was accurate at the time of publication. All contact information, directions and prices should be confirmed directly with the golf course or resort before making reservations and/or travel plans.