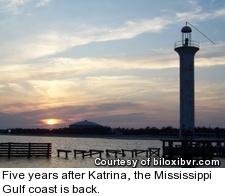 FEATURE STORY
Golf real estate: The Mississippi Gulf Coast is back in a big way
By Larry Olmsted,
Special Contributor
Five years ago, Hurricane Katrina wrought massive destruction in New Orleans. But the Mississippi Gulf Coast, which was just as badly devastated -- if not worse -- usually gets left out of the headlines.
Especially hard hit were the tourist-rich destinations of Gulfport and Biloxi, Miss. both of which had numerous golf courses, towering casino hotels and condos built almost to the edge of the largely unprotected coast.
Five years later, Mississippi is back -- in a big way. And the silver lining is that the hotels and golf courses are better than ever, and at prices that have other golf and casino destinations looking over their shoulder.
The National Golf Foundation just released its survey of average greens fees by state, and Nevada was the highest with an average of $110 for 18 holes. That's about three times greater than the average in Mississippi, which has countless big-time casinos and courses by nearly every big-name designer.
But for visitors and second-home buyers, value is just one appeal of the region. Another is that the folks here are so friendly and enthusiastic that there is a feel-good aura in visiting the area. Spending money here -- even on golf -- gives you a real sense that it is helping the community.
Mississippi has 77 miles of shoreline on the Gulf of Mexico, including the world's longest manmade beach. Besides golf and gaming, the big attractions are sportfishing, other water sports and pristine barrier islands. There are two notable new attractions: A $32 million art museum designed by Frank Gehry is getting ready to open in Biloxi, and NASA's Stennis Space Center is building a $44 million interactive visitor attraction.
There are more than 25 golf courses along the coast, many of them high quality, and 10 golf real estate communities in this stretch.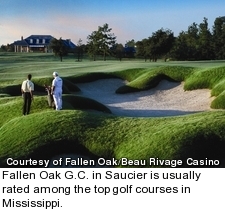 Gulfport and Biloxi are the anchors, home to a dozen casinos, including MGM Mirage's luxury Beau Rivage -- the Bellagio of the east -- and the surprisingly swank Island View. They both have their own golf courses. Island View has Windance. The Beau Rivage has Fallen Oak, a Tom Fazio design and the East Coast's version of Shadow Creek, complete with caddies and conditions that could not be better. Fallen Oak is now home to a Champions Tour event, the Mississippi Gulf Resort Classic.
The other top casino courses are Jack Nicklaus' Grand Bear (associated with the Grand Biloxi casino), Arnold Palmer's The Bridges (Hollywood Casino), and Jerry Pate's The Preserve (Palace Casino). Davis Love III's Shell Landing and The Oaks, a beauty winding in and out of natural wetlands that is a perennial top 10 in Mississippi, both have golf course homes, while most of the casino courses do not.
The basic real estate choice here is between a beachfront home or condo, or something in a golf course community. Either way you have local access to a great number of inexpensive places to play. Vacation condos on or near the beach start at just $75,000, and golf course homes and condos can be found starting at less than $100,000.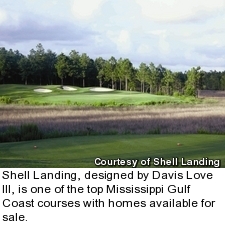 In Pass Christian, a very popular beach community surrounded by water, you can get a true beachfront home for less than $160,000 -- something you won't find in just about any other popular golf and beach destination. On the Mississippi Gulf Coast your dollars go far, and even for a waterfront mansion at the highest end of the market it is hard to spend more than $500,000.
Diamond Head, on the western end of the coast, is the largest and oldest of the planned golf resort communities, spanning 10 square miles with its own zip code. It contains two golf courses, an airstrip, tennis courts, pools and a broad mix of real estate options -- from condos to townhomes, starting at $75,000-$85,000, to single family houses on and off the waterfront, starting at about $130,000.
In Gulfport, the largest city on the coast, and Biloxi, the most popular for vacation real estate, most of the courses are slightly inland, while many second-home condos are right near the beach.
In Biloxi, a new, well-appointed beachfront condo starts at $175,000. Similar units off the beach are less than half the price (around $80,000). This area also has several inland golf course communities, including Sunkist, with homes ranging from $200,000-$300,000, and the venerable Great Southern Club, one of the priciest at $300,000-$400,000.
Larry Olmsted has written more than 1,000 articles on golf and golf travel, for the likes of Golf Magazine, T&L Golf, LINKS, Golf & Travel, Men's Health, Men's Journal, USA Today, and many others. He broke the Guinness World Record for golf travel and wrote Getting into Guinness, as well as Golf Travel by Design. He was the founding editor of The Golf Insider, and the golf columnist for both USA Today.com and US Airways Magazine.
January 17, 2011
Any opinions expressed above are those of the writer and do not necessarily represent the views of the management. The information in this story was accurate at the time of publication. All contact information, directions and prices should be confirmed directly with the golf course or resort before making reservations and/or travel plans.