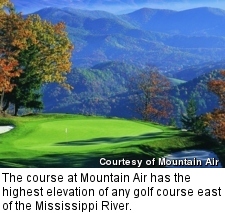 REAL ESTATE
Mountain Air near Asheville, North Carolina: A breath of fresh air in the private golf community scene
By Larry Olmsted,
Special Contributor
With 100-mile views, Mountain Air lives up to its name.
The community sits at nearly 5,000 feet atop Slickrock Mountain -- at one of the highest elevations in the renowned Blue Ridge Mountains. This helps keep golfers cooler in the summer and adds length to every shot, a bonus hard to come by on the east coast.
But what really sets the unique private community apart is that Mountain Air has its own airport, a 2,875-foot runway adjacent to the clubhouse. Originally launched by pilots for pilots, this is one of the top country club choices in the U.S. for golfers and second homeowners who are also pilots.
It's a niche Mountain Air prides itself on, right down to the Orville and Wilbur's restaurant here.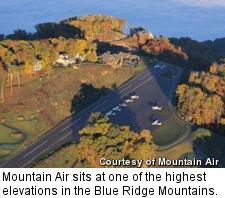 Otherwise, it's not too serious. Located just 30 minutes outside the beloved city of Asheville, N.C., Mountain Air has a very laid back feel -- there is hardly a coat and tie to be seen here -- and little of the opulence or elitism seen at some private golf communities.
The clubhouse and most other facilities are understated, and the atmosphere is very relaxed but still offers residents plenty to do. Mountain Air is a peaceful place that has been growing for the past 20 years, thanks to its unique setting, amenities and focus on enjoying life.
Orville & Wilbur's is a casual stone and wood restaurant overlooking the runway, and there are three additional dining options in the main clubhouse, part of a central "village green" or town center development.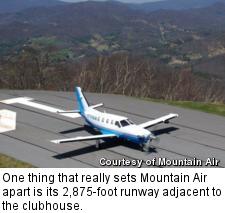 There is an open-air stone amphitheater for concerts and special events, six different neighborhood parks with an assortment of gazebos, pavilions and grills for enjoying outdoor living, a large central lodge that contains a country store-style grocery market, post office and game room, a full-time naturalist with children's programs and guided walks, and an Old Growth Forest Preserve with miles of hiking trails.
The community also takes advantage of its surroundings with several member raft and kayak trips each year, since some of the most famous whitewater in the nation is nearby, along with world-class fly-fishing.
Hikers flock to nearby Mount Mitchell, the highest point in the eastern U.S. at 6,683 feet, which is also clearly framed from the eighth green. An Outdoor Discovery Center staff keeps members busy with raft trips, fishing, hiking, rock climbing, geo-caching, scanning the night skies, skeet shooting and more.
Golf at Mountain Air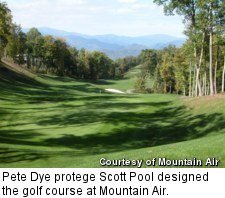 The Mountain Air golf course, designed by Pete Dye protege Scott Pool, has the highest elevation of any golf course east of the Mississippi River. Spanning a pair of mountaintops, it has very different front and back nines -- and at one point plunges an amazing 900 feet in an 11-hole span.
Much of the layout is carved from sheer granite outcroppings and through dense forest, and when it emerges it offers long-range panoramas.
The community's private airstrip divides the nines.
After the opening four holes, which are narrow and fairly short (playing along a ridge), the front nine becomes more wide open and longer. The back nine is narrower, with greater elevation changes. The first two holes on the back are extremely dramatic. The 235-yard, par-3 10th drops 212 feet from tee to green, and the par-5 11th plays from a tee perched at the steep crest of a valley to a fairway 388 feet below -- adding as much as 100 yards to the tee shot.
Properties at Mountain Air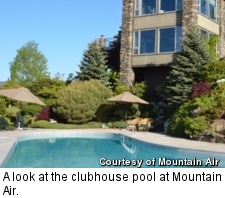 There are currently 631 properties at Mountain Air (which spans about 1,300 acres) -- 210 condominiums, 135 developer-built neighborhood homes, 86 custom single-family homes and 200 lots yet to be built upon.
Condo prices range from $209,000-$930,000; the neighborhood homes (a mix of cabins and townhomes) run $388,000-$1,595,000; the custom homes start at $599,000 and climb up to several million; and lots have a very broad range -- depending on size, view and location -- running from $89,000 to more than $2 million.
Larry Olmsted has written more than 1,000 articles on golf and golf travel, for the likes of Golf Magazine, T&L Golf, LINKS, Golf & Travel, Men's Health, Men's Journal, USA Today, and many others. He broke the Guinness World Record for golf travel and wrote Getting into Guinness, as well as Golf Travel by Design. He was the founding editor of The Golf Insider, and the golf columnist for both USA Today.com and US Airways Magazine.
October 14, 2013
Any opinions expressed above are those of the writer and do not necessarily represent the views of the management. The information in this story was accurate at the time of publication. All contact information, directions and prices should be confirmed directly with the golf course or resort before making reservations and/or travel plans.