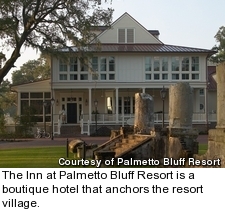 FEATURE STORY
Golf real estate: Palmetto Bluff, the pride of Bluffton, South Carolina
By Larry Olmsted,
Special Contributor
The coast of South Carolina is one of the most established and most popular destinations for golf course homes and second homes, with a wide array of gated and non-gated communities for every budget and taste.
At the entry level is Myrtle Beach. At the high-end level is Kiawah Island. But the broadest and the best-known choice is Hilton Head, one of the first master-planned communities in the nation.
Today the Hilton Head market includes not only the island itself, but also adjacent Bluffton, on the mainland side of the small bridge, and its Route 278 corridor en route to Savannah, Ga. This roadway in Bluffton is lined with high-end golf communities such as Berkeley Hall, Belfair, Colleton River and Chechessee Creek. But even among this elite group of gated communities with top designer golf courses, one stands out as the biggest and boldest and has weathered the real estate downturn best in terms of holding value: Palmetto Bluff.
Palmetto Bluff was recently ranked the best spa resort in the United States and Canada by Travel+Leisure magazine. It was the second-best resort of any type, and also took No. 1 for service. That says something about the overall consistency of the experience and helps explain why people love the place.
But Palmetto Bluff is not for everyone, or even for most people. Empty home sites run from $150,000 to more than $3 million and finished homes start at $776,000. That's entry level, and it is possible to spend well more than $6 million. As these numbers suggest, this is not just any golf community, but one of the premier choices in the world.
So what's the big appeal?
Palmetto Bluff claims to be the largest remaining waterfront property on the East Coast, and it is massive in scope. It is big enough so that potential buyers have the choice of many different environments within the one resort: larger lots with privacy deep in the woods, smaller lots in a more vibrant community, riverfront property or homes overlooking the golf course or near the town. There are 11 different neighborhoods -- with many lots as big as 30 acres in size. The master plan calls for 2,900 homes.
Nearly a third of the 20,000-acre development is dedicated to open space, including a 6,500-acre nature preserve. Community assets include a lot of waterfront access on the May River, a network of walking trails, several restaurants and an entire traditional southern village complete with stores, post office and an upscale inn and spa managed by deluxe Auberge Resorts. For horse lovers it is hard to beat the extensive equestrian facilities, nearly 200 acres worth, with boarding, training, instruction, a covered riding arena, a regulation dressage ring, a 5-acre turf event field and a cross-country course designed by Olympian John Williams.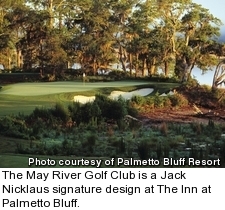 Golf fans come for the Jack Nicklaus signature design, the May River Golf Club. As the name suggests, it follows the meandering river, routed through Low Country riverfront forest, with several holes right on the banks, plus enough draped Spanish moss hanging from the oaks to make you forget what century it is.
Nicklaus is not known as a great experimenter, but here he went out of the box and built a perfectly balanced back nine with three holes of every par, something you rarely see, especially from the Golden Bear. The 7,171-yard test has quickly stood out among some very tough local company, winning "Best New Course" in the state when it opened in 2005. "Golf Magazine" currently ranks it the fifth-best public golf course in South Carolina, behind only Harbour Town in the greater Hilton Head region.
To make it even more special, caddies are required (like at Whistling Straits or Bandon Dunes). It seems unusual to have just one course in a community this size, but if you want a change of pace, there are dozens of excellent public and private layouts within a few minutes drive.
Interestingly, Bluffton is one of the oldest second-home destinations in the country. Long before Hilton Head Island was settled, the tiny village was a popular 19th-century summer escape for the wealthy merchants of Savannah, especially in the oppressive city summers.
But for most of modern history, Bluffton has been merely a cute, one-square-mile village full of art galleries and historic buildings that people visited from Hilton Head. In the late '90s, developers suddenly realized that the area had a number of advantages, mainly tons of undeveloped land, plus the same great Low Country culture, three-season climate and access to fishing, beaches and outdoor activities. It also had a location significantly closer to Savannah and its airport, just 30 easy minutes away. Two other notable airports, Charleston, S.C., and Jacksonville, Fla., are within driving distance.
In a little more than 10 years the town absorbed previously unincorporated land and grew from one to more than 50 square miles, while the population increased from 400 to around 15,000. Today's Bluffton is a second-homeowner's fantasy, an 8-mile corridor of planned communities, of which Palmetto Bluff is by far the largest. And if it fits your budget, it's definitely worth a look.
Larry Olmsted has written more than 1,000 articles on golf and golf travel, for the likes of Golf Magazine, T&L Golf, LINKS, Golf & Travel, Men's Health, Men's Journal, USA Today, and many others. He broke the Guinness World Record for golf travel and wrote Getting into Guinness, as well as Golf Travel by Design. He was the founding editor of The Golf Insider, and the golf columnist for both USA Today.com and US Airways Magazine.
January 4, 2011
Any opinions expressed above are those of the writer and do not necessarily represent the views of the management. The information in this story was accurate at the time of publication. All contact information, directions and prices should be confirmed directly with the golf course or resort before making reservations and/or travel plans.