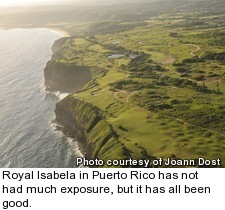 REAL ESTATE
Royal Isabela in Puerto Rico: Bandon Dunes meets Pebble Beach -- in the tropics
By Larry Olmsted,
Special Contributor
Imagine Bandon Dunes crossed with Pebble Beach and relocated to the tropics -- with just a handful of homes -- and you begin to grasp what makes the new Royal Isabela project in Puerto Rico so special.
Like Bandon Dunes, you have a developer obsessed with quality golf who discovered a previously unknown site perfect for the game and puts golf above all else. Like Pebble Beach, there are going to be people living alongside the course, which sits on cliffs overlooking the sea, reminiscent of the great links courses of Scotland and Ireland minus the dunes.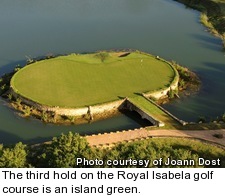 All of this is in a relatively undeveloped corner of Puerto Rico, offering buyers all the security and advantages of American law and government with a tropical island setting you cannot find in the continental U.S.
Brothers Stanley and Charlie Pasarell were born and raised in Puerto Rico, and as golfers they long imagined this hidden gem piece of coastline could hold a world-class golf course.
That's why they took an unusual tact to their development. They built the course first and then dealt with the other infrastructure, marketing memberships and real estate sales, so would-be members and owners could see the quality for themselves.
"We believe that for people to understand our vision, what we want Royal Isabela to be, they have to experience it, and to experience it they have to be able to stay here, and now they can," said spokesperson Stuart Siegel.
While residential sales and construction are just beginning, the lodging opens this month and the course has been open for two years. Golf Digest has called it "a heavenly getaway," while the highly critical subscription-only Golf Odyssey called it the "Pebble Beach of Puerto Rico." It has not gotten much exposure, but it has all been good.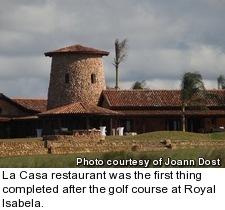 Royal Isabela is a luxury, boutique golf resort with a small real estate component. The "hotel" consists of 20 luxury casitas -- all terraced into a hillside overlooking the ocean -- from 650-800 square feet with private plunge pools. These casitas are owned by the developers and are not for sale, but they are available for nightly rental to guests.
They share a small, main lodge that includes a bar, library and the adjacent La Casa restaurant, the first thing after the course to open. The rest of the resort's facilities consist of a small, Colonial-style clubhouse with a cocktail terrace overlooking the 18th hole, and just across the road the owners have a plantation with organic farms that produce food for La Casa. The river plantation also has active facilities for hiking, mountain biking and horseback riding, with a network of paths and converted rail trails, plus a river offering stand-up paddle boarding and other water sports. There is also access to two miles of sandy beach. That's about it, a small, secluded club lifestyle with the main focus on golf.
Royal Isabela's golf course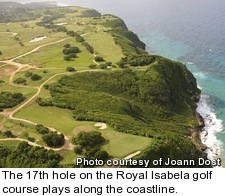 The course itself is spectacular, set 300 vertical feet above the ocean with sweeping views of the Atlantic throughout. Four holes are perched right at the edge of the cliffs. The inland holes are also dramatic, with an island green for the third hole and old stone plantation ruins throughout. It is evocative of a links, both due to its setting, the effect of wind on play and the deep sod-faced bunkers throughout. The design by David Pfaff, one of Pete Dye's original assistants on Teeth of the Dog at Casa de Campo in the Dominican Republic, is the highest-ranked golf course in the Caribbean Basin.
Real estate offerings at Royal Isabela
Royal Isabela's real estate offerings are in scale with the resort, limited to just 10 villas and eight lots for custom homes. The villas are being built by the developers, with groundbreaking this month, and are expected to be ready to move into by the first quarter of 2013.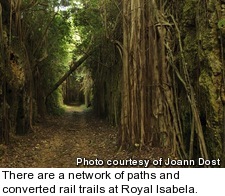 Despite almost no marketing some have already been sold, mainly to Puerto Rican residents who have fallen in love with the course. They will range from two to four bedrooms, starting at $1 million. The villas all overlook the sixth hole, span more than 3,000 square feet and have private pools plus an abundance of outdoor covered living space. The estate lots overlook both the golf course and ocean and range from one-and-a-half to two acres.
Royal Isabela is located in the far northeastern corner of Puerto Rico, 73 miles from the San Juan International Airport and approximately 10 miles from the Aguadilla International Airport. The latter is physically very convenient but has very few scheduled flights.
Larry Olmsted has written more than 1,000 articles on golf and golf travel, for the likes of Golf Magazine, T&L Golf, LINKS, Golf & Travel, Men's Health, Men's Journal, USA Today, and many others. He broke the Guinness World Record for golf travel and wrote Getting into Guinness, as well as Golf Travel by Design. He was the founding editor of The Golf Insider, and the golf columnist for both USA Today.com and US Airways Magazine.
April 12, 2012
Any opinions expressed above are those of the writer and do not necessarily represent the views of the management. The information in this story was accurate at the time of publication. All contact information, directions and prices should be confirmed directly with the golf course or resort before making reservations and/or travel plans.