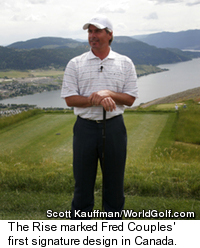 REAL ESTATE
The Rise brings Fred Couples golf and resort living to the Okanagan Valley in B.C., Canada
By Scott Kauffman,
Contributor
VERNON, British Columbia, Canada - When it comes to world-class wine, warm weather and first-class golf, Canada doesn't necessarily scream out as the destination of choice. But this part of western Canada, which surprisingly features the northernmost edge of the High Desert, offers up that precise package of golf, wine and sun.
After hosting a hugely successful nationally televised Skins Game in 2000, featuring Mike Weir, Phil Mickelson, Fred Couples and Sergio Garcia, Predator Ridge, a 27-hole master-planned resort community, perhaps single handedly first put this obscure pocket of Canada - the Okanagan Valley - on the global golf and wine map.
How? Predator Ridge is part of a region that boasts more than 50 golf courses and a high desert climate that gives Okanagan Valley the country's longest, driest and sunniest golf season. Secondly, the wine grows just fine in and around the massive Okanagan Lake, much to the delight of wine aficionados.
In fact, named Napa North thanks to its 50-plus wineries, the Okanagan region is quickly gaining worldwide viticulture recognition. With places like Predator Ridge, whose luxurious accommodations and golf and spa amenities rival that of any in the United States, the Canadian destination is only growing in its appeal.
The Rise: Okanagan's newest golf resort community
One of the newest master-planned golf resort communities hoping to add to this alluring destination is The Rise, a 735-acre Couples-designed development that officially opened last June in a star-studded event that featured Couples and several National Hockey League stars.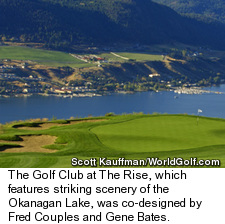 For Couples, a self-described hockey nut and native of nearby Washington State, The Rise marked his first signature design in Canada. And he was clearly thrilled about finally making his debut development in Canuck country.
"The lake views up here are so incredible," said Couples, after playing a ceremonial round with Calgary Flames captain Jarome Iginla, Boston Bruins star Chuck Kobasew and former NHL players Brent Gilchrist and Jeff Finley. "I have such a passion for golf that we really wanted to take our time and build a course that is as stunning as its location. ... I grew up in Seattle my whole life, and I was flabbergasted when I came up to the Okanagan Valley for the first time. To do a golf course here is just a thrill."
The Golf Club at The Rise, which features striking scenery of the Okanagan Lake and rugged topography of the Vernon highlands, was co-designed by longtime golf course architect/partner Gene Bates.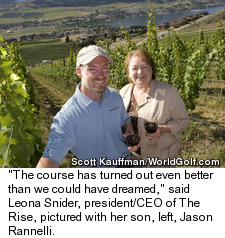 "The course has turned out even better than we could have dreamed," Rise President/CEO Leona Snider said during the recent grand opening. "It's a beautiful addition to the community we are building here at The Rise and a wonderful expansion of the recreation opportunities in Vernon."
Snider's Okanagan Hills Development Corporation is building the 735-acre golf and winery resort, located minutes from the heart of Vernon on a south-facing hillside that overlooks Okanagan Lake. Besides the golf course, The Rise also features a winery, vineyards, lakeside beach club, hotel and village center and several neighborhoods comprised of vacant lots, villas and single-family homes.
Clearview, the first neighborhood to be released to the public, has been sold out; meanwhile, one of the newest releases is the vineyard enclave called Belago, or "beautiful lake view."
Nestled into the hillside amidst The Rise's newly expanded 17-acre vineyard, Belago's limited 18 estate-sized properties start at $399,900 and allow homeowners to experience first-hand the growth of the private vineyard and winery.
According to Snider, the family-run winery will include a visitor facility, VIP tasting room and private wine storage. Belago is the final release of single-family home sites on the sunny south-facing slopes at The Rise.
"Those who purchase in Belago will literally be able to watch their investment grow with the vines," added Snider, who is now actively seeking a buyer for the entire resort-style community.
Another neighborhood released to the market in the last year is Sagecroft. Featuring homesites that back up to a nature preserve and offer Okanagan Lake views, these lots start at $229,000, according to a Rise spokesperson.
Bates and Couples have been partnering on golf course developments since 1991, operating as a team under the Couples Bates Golf Design name. They've collaborated on more than 20 projects worldwide, but The Rise left a lasting impression on Bates, whose Bates Golf Design Group is located in Palm Beach Gardens, Fla.
"I think this is one of the most scenic golf courses I've ever been involved in," noted Bates. "And I've been involved in about 140 golf course projects around the world, so I believe that's saying a lot."
- Scott Kauffman, a senior columnist with the Real Estate Channel, is an expert on golf course real estate and resort development. A former staff writer with the Golfweek Group, the Central Florida resident has been published in more than 20 national and regional golf and luxury lifestyle publications, including Fairway Living, Links and Nicklaus magazines, Robb Report Vacation Homes and Robb Report Collection, Unique Homes, Estates West and Private Air.
February 10, 2009
Any opinions expressed above are those of the writer and do not necessarily represent the views of the management. The information in this story was accurate at the time of publication. All contact information, directions and prices should be confirmed directly with the golf course or resort before making reservations and/or travel plans.