PERSONALITY PROFILE
With Cape Fear National at Brunswick Forest, golf architect Tim Cate's reputation is growing
By Scott Kauffman,
Contributor
LELAND, N.C. - Nationally speaking, the name Tim Cate doesn't necessarily jump out in the world of golf course architecture. Here in the coastal Carolinas, though, Cate needs little introduction.
Along a 60-mile coastal stretch that runs from Georgetown, S.C., to Calabash, N.C., Cate is one of the most successful and popular architects around - having designed top-ranked courses such as Panther's Run and Tiger's Eye at Ocean Ridge Plantation, the Players Club at St. James Plantation and The Thistle Golf Club, to name a few.
Tim Cate at Ocean Ridge
Nowhere is Cate's name more prevalent and appreciated than at Ocean Ridge, a 1,300-acre resort-style community where Cate got his start in 1990 working under architect Willard Byrd on the community's initial "Big Cats" layout called Lion's Paw. Two years later, Cate, now working on his own, was picked by then-Ocean Ridge owner Ed Gore to design the second course, Panther's Run, and the Cate cat was out of the bag.
In fact, Panther's Run proved to be so successful, Cate was asked to come back and design two more Big Cats courses: Tiger's Eye, ranked by Golf Digest as one of the "Best New Courses in America" when it opened in 2000, and Leopard's Chase, listed by Golf Digest as one of the top 10 new public courses when it opened in Spring '07.
Cate is now working on a fourth new course at the Sunset Beach, N.C., golf community. Known as Jaguar's Lair, this final course to the Big Cats collection will likely open sometime in 2010.
Cate's latest: Cape Fear National at Brunswick Forest
Another new project sure to garner a lot of attention is Cape Fear National Country Club in North Carolina, an exclusive 27-hole facility scheduled to open 18 of its holes this fall.
Located just minutes from Wilmington, Cape Fear National will be one of the signature amenities at Brunswick Forest, a private upscale 4,500-acre retreat backed by Lord Baltimore Capital Corporation, a private investment group with more than $2 billion in assets.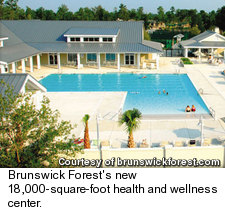 To say this Baltimore, Md.-based firm could have hired anybody for its high-profile golf course is an understatement. When asked why Tim Cate Designs Inc. was selected, Brunswick Forest Spokesman Tobin Spirer says it had to do with Cate's string of "local successes."
"When the developers looked for a candidate, and they looked at some national names, we kept coming back to a local guy who understood the local area, understood the region and built courses that worked," Spirer said.
Plus, some of the Brunswick Forest partners experienced Cate at Ocean Ridge, according to Spirer, and they remembered him being dependable, talented and someone with great attention to detail.
The media-shy Cate, 54, was clearly excited about his latest creation when reached at his office in Sunset Beach, N.C.
"It'll blow everything out of the water up there [in Wilmington]," he says. "You could bring that down here [to Myrtle Beach], and it would be one of those top-five, best new courses and all that stuff. Up there in Wilmington they've never had competition like they have down here.
"I think the people that play it are going to be pretty surprised at what they see.
"They're going to see a sophisticated, detail level of golf that they probably don't even know about. It's a very good project with very good developers," Cate continued. "Everybody's just totally committed to make Cape Fear really good."
Brunswick Forest homes and amenities
The same can be said for the rest of the community, which features homesites starting at $150,000 and homes ranging in price from the mid-$200,000s to about $600,000. Several amenities are already completed, including an 18,000-square-foot wellness and fitness center, community garden center, and 100-plus miles of biking and leisure trails. Future amenities call for a private beach club less than three miles away and separate river club.
According to Spirer, Brunswick Forest has already attracted more than 470 families and more than $170 million in sales since the community opened a little more than two years ago. Of course, many Brunswick Forest club members are anxiously awaiting the newest Cate course.
If there's one trademark to Cate's work, it's his sophisticated touches both on the course and among the course's immediate surroundings.
For example, at Cape Fear, many of the hazard areas are accented by colorful plants and native grasses. The course also features more than 1,500 linear feet of bridges, three separate waterfalls, several ponds, strategically placed rock walls, drive-through sand waste areas, and beach bunkers that run into the ponds.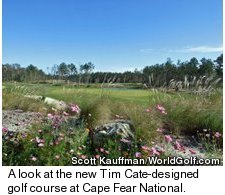 "My golf courses are totally molded and marry up to whatever site they're going to be on," says Cate. "They're all so dramatically different and really take on the character of each site. [The golf course] complements the site heavily and the site complements it. They work together."
Another signature of Cate's work is his tireless hands-on dedication to the craft. According to KemperSports Regional Sales and Marketing Director Chris Schwartz, whose company will probably make Cape Fear available to the public for a limited time once it opens, Cate is out on the Cape Fear site probably twice a week and "consistently making changes."
"It's not just a hole to me," Cate says. "I'm there from tee to dogleg and then dogleg to green and dogleg to dogleg on a par 5. In other words, I spend a lot of time on each hole. I've got a lot of time in my courses. For me, it isn't over on a golf hole until grass goes on it."
As one critic aptly described Tiger's Eye, the course has character on every hole and doesn't take a hole off. In essence, that sums up Cate's overall golf course design work, which he certainly doesn't view as a job.
"To me it wasn't a business," Cate says. "There's a lot of architects out there where it is a business. It's easy to see that in these golf courses I've got all around. It's like my client at St. James said, and I won't say what other architect he was talking about up there, but he says I put more thought on one hole than the other guy did in the whole golf course."
As for his 26-year solo career that seems to have been confined along a high-profile stretch of the Carolina Coast, Cate is perfectly content about the regional nature of his profile."
"I've been fortunate to build a career there to where I think I'll get enough little odds and ends stuff to keep me alive," he says modestly.
Indeed, if history is any indication, there is little doubt that Cate will always be considered for work along the Carolina Coast.
Scott Kauffman, a senior columnist with the Real Estate Channel, is an expert on golf course real estate and resort development. A former staff writer with the Golfweek Group, the Central Florida resident has been published in more than 20 national and regional golf and luxury lifestyle publications, including Fairway Living, Links and Nicklaus magazines, Robb Report Vacation Homes and Robb Report Collection, Unique Homes, Estates West and Private Air.
February 27, 2009
Any opinions expressed above are those of the writer and do not necessarily represent the views of the management.