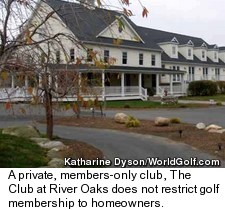 FAIRWAY LIFESTYLE
The Club at River Oaks golf community in Connecticut a nature-lover's dream
By Katharine Dyson,
Special contributor
SHERMAN, Conn. - It was one of those last perfect fall days before winter socked us in: brilliant sun, temperatures pushing 70, the hilly landscape painted with swathes of orange, yellow and red. Even more perfect because when I arrived at The Club at River Oaks, I only saw one other foursome on the golf course.
Opened in August 2003, this private, gated golf community is set in the foothills of the Berkshire Mountains in the picture postcard village of Sherman. Running near it is the Appalachian Trail and the Housatonic River.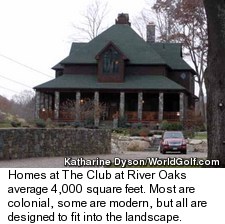 About 90 minutes northeast of Manhattan, River Oaks is an attractive getaway for those looking for a second home outside the Big Apple. Several young families also live in the community full time.
Homes average 4,000 square feet, but there is a minimum size of 3.200 square feet for a two-story house and 2,800 square feet for a one-story residence. Each is different. Most are colonial, some are modern, but all are designed to fit into the landscape. Natural materials like cedar, logs and stone are common building materials.
Though of modest size for a golf course community, River Oaks offers big value to the 62 homeowners who will ultimately live here.
Riding the economic downturn, lot sales and housing starts have slowed, but to date about 40 lots are sold and 20 residences are occupied. The sale price for completed homes is $1 million to $1.25 million. Currently, there is a resale for $950,000 as well as a couple of completed spec houses on the market.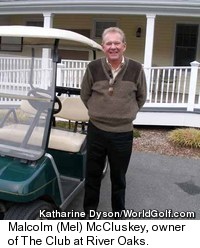 When Malcolm (Mel) McCluskey, the owner, bought the 365 acres from the federal government, it was raw land. Pasture. There was an access road but not much else. McCluskey, most recently from Florida, had grown up in the Bronx, so he knew the potential for the land and loved it.
When the land came up for sale, it irked McCluskey that the power company was thinking of buying it; the public wouldn't have been able to use it. "I used to jog here," he said as we rode through a tree-lined path.
McCluskey, who made his money in real estate and the mailing list business, decided to purchase the property. Navigating the red tape took about five years, but McCluskey prevailed.
Although the initial town zoning allowed for two-acre lots, this has been changed to four-acre plots, a fact McCluskey and his partners find a challenge. Still, lots averaging two acres are selling for $275,000 to $375,000. Most have views of the mountains and golf course, though the structures are set back from the fairways.
Golf at The Club at River Oaks
Two years after it opened, River Oaks hosted the 2005 Mid Amateur Qualifying Rounds. Since then the golf course has gained a reputation as one of the best in the state. In 2007 it hosted the Ct. State Golf Association Two Man Team Championship.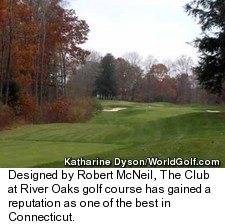 Designed by Robert McNeil, The Club at River Oaks golf course rolls along hills, wetlands and the river, punctuated by mature stands of maples and pines as well as ponds. With four sets of tees, River Oaks plays 6,730 yards from the tips (5,152 from the forward tees). Holes nine, 12 and 17 are particularly scenic, with sweeping mountain and wetland views.
A private, members-only club, River Oaks does not restrict membership to homeowners. Members pay an initiation fee of $47,500 plus $5,000 to $6,750 in annual dues. Juniors under 40 need only pay $7,500 initially, making up the balance when they turn 40. Junior dues are $4,500. There are now 125 members; the target is 250.
One of the most active members is McCluskey himself, though he admits, "Five years ago I didn't play golf. Now I've become an addict."
The facility boasts a handsome 26,000-square-foot clubhouse with a Grille Room and a Grand Ballroom, as well as meeting rooms, locker rooms and a well-equipped exercise room.
In this spare economy, the ballroom helps pay the bills. "We book a lot of weddings and other functions," explains McCluskey.
Near the clubhouse is a historic red barn dating from 1804. Although it is currently used for office space and storage, it could make an excellent spa or additional party space.
Two tennis courts and an outdoor, heated swimming pool complete the facilities. Nature enthusiasts will enjoy the nearby hiking trails and catch and release trout fishing.
Social memberships are available at $11,000 for the initial fee plus $2,300 annual fee. Corporate memberships are also available. See www.clubriveroaks.com for more information.
Katharine Dyson is a golf and travel writer for several national publications as well as guidebook author and radio commentator. Her journeys have taken her around the world playing courses and finding unique places to stay. She is a member of the Golf Writers Association of America, Metropolitan Golf Writers of America; Golf Travel Writers Organization and Society of American Travel Writers.
January 30, 2009
Any opinions expressed above are those of the writer and do not necessarily represent the views of the management. The information in this story was accurate at the time of publication. All contact information, directions and prices should be confirmed directly with the golf course or resort before making reservations and/or travel plans.