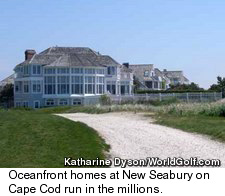 FAIRWAY LIFESTYLE
New Seabury on Cape Cod provides great views, homes and golf - for a price
By Katharine Dyson,
Special contributor
You couldn't ask for a better location: 1,500 acres on Nantucket Sound with views over to Martha's Vineyard. It's New Seabury in Mashpee on Ole' Cape Cod with a three-and-a-half-mile beach, meadows, woodlands, dunes, grasses, rugged rugosa and two exceptional golf courses.
The first four holes of New Seabury's Ocean Course is one of the consistently top rated tracks in the state, the venue for many LPGA tournaments. Meticulously maintained, the front nine is more open, while the back nine is tighter.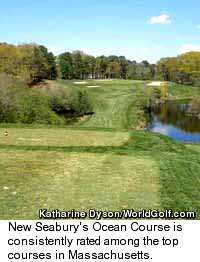 The other golf course, The Dunes, threads its way inland among trees and wetlands. Though rated a little easier and not as dramatic, perhaps, for some it can actually be a bear because of tight fairways, many bunkers and carries over water.
Both courses, designed by William Mitchell, were open to the public until about three years ago when Icahan Enterprises brought in Bayswater Development, a White Plains-based company, to build several new neighborhoods as well as a market place, fitness center, tennis pavilion, beach cabana club and a 42,000-square-foot clubhouse.
New Seabury had already been partially developed by the previous owners, but it got a huge thrust up the economic scale with the new owners, which included privatizing the golf courses and jump-starting several new neighborhood clusters.
So today, unless you are a New Seabury Country Club member, a guest of a member or guest at the on-site Popponessett Inn, a Cape Cod landmark, you'll have to go down the road to Old Barnstable or Hyannis Golf Club for your game of golf.
The master plan calls for 455 home sites in 13 different neighborhoods, all currently in various stages of development with completion expected about 2017. Apparently, sales are brisk even with the current real estate slow-down. Greta Gustafsen, senior vice president sales and marketing, says, "When we first started selling in 2005, sales were strong, and the market continues to hold up. This year, we expect to close $750,000 in sales, and we're pushing to reach $100 million.
"Last season alone, we sold 30 homes, mostly to people with discretionary income looking for a second home."
With oceanfront estates selling for $2.5 million and up, though a mind-blower for the average wage-earner, relative to other developments where shrinking buildable coastal space has sent waterfront lot prices soaring, these properties might even be considered a bargain. For example, the ocean view lots in Trump's Cap Cana development in the Dominican Republic are going for $7 million and up, and those lots are not even on the water.
So, where are these buyers coming from? According to Gustafsen, the majority are coming from Massachusetts with a recent influx from New York, Connecticut and New Jersey.
New Seabury real estate
Throughout New Seabury, the design reflects the spirit of Cape Cod - gray shingles and siding, mullioned windows, white trim and pickets, and details like pitched roofs, porches, gardens and widow's walks. Homes have outdoor pools and water views along with sweeping vistas of the golf courses. The place is quiet - except when the bulldozers and construction equipment are revved up - with only sounds of gulls, rustling grasses and waves swooshing onto shore break the slience.
Along the first fairway of Ocean Course just above Nantucket Sound, a little more than a dozen Fairway Homes at Seaside will be built. Seven are already completed with first and second floor master suites, private courtyards with swimming pools and optional guest suites. Selling for $2.3 million to $7 million, single family homes in this gated neighborhood average 4,000 square feet. For example, "The Approach," with 3,9867 square feet, is selling for $2.3 million.
Sea Quarters' 43 townhomes will be located back from the fairways of the Dunes Course. Ranging from 1,300 to 1,669 square feet, the homes will have two bedrooms and 2 1/2 baths, lofts and garages, as well as open kitchens and living rooms with cathedral ceilings and sun porches. Some will have fireplaces, and there will be two neighborhood swimming pools.
Promontory Point's 45 Nantucket-style townhomes are set above the fairways of the ninth hole Ocean Course and 18th hole of Dunes. At 2,200 - 2,900 square feet, they have three bedrooms, a library, a large chef's kitchen, porch and deck, and garden courtyard. A three-story unit, the Clearview has 3 1/2 baths, a deck and an upper level porch. A nice touch is a widow's walk. Prices are $765,000 - $895,000.
Vineyard Reach, a gated neighborhood near the clubhouse, has 23 spacious, 2,700 to 4,000 square feet homes in five buildings selling for $995,000-$1,755,000. With silvered shingles, gardens, large decks, garages and dormer windows, these homes have views of a pond and Martha's Vineyard.
Located between a nature retreat and the golf courses, the Preserve at Flat Pond, another gated community, will have 27 custom estate homes with great rooms, swimming pools and enclosed porches. Selling for $1.2 million to $2,050,000, homes will have 2,600 to 4,091 square feet. Sites start at $425,000 plus premiums for location and size.
The Country Club at New Seabury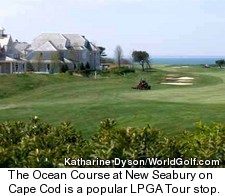 If you want to play golf here, you'll need to join the Country Club, where you can buy various levels of membership. The initiation fee of $75,000 for "Platinum" membership comes with all the privileges, including unlimited use of both courses, the practice range, priority tee times and all other facilities. Annual dues are $10,151 and there is a food and beverage minimum of $1,200 for families.
As you go down the ladder to Gold, Bronze, Sports and Social memberships, you pay less and get less. For example, Bronze, which comes with a price tag of $55,000 and $7,420 for dues, lets you play Dunes but not Ocean. Sports Members pay $25,000 and get to use most facilities except the golf courses. If all you want to do is eat, drink and be merry with friends, the Social Membership at $2,500 is the deal.
Notes
As American Real Estate Properties, owners of New Seabury also own Grand Harbor of Vero Beach, Fla. New Seabury club members also get to use the facilities at Grand Harbor.
Through the club's Golf Academy, Brendan Reilly, head golf professional, offers a variety of clinics and instruction.
Other facilities include the private Beach & Cabana Club with outdoor pool, snack bar, and locker rooms; tennis pavilion with all-weather courts, Fitness Center and proposed new Lifestyle Center with an Olympic pool.
Villa Rental Program: There is a villa rental program, but if you rent here, the golf privileges of the owner do not carry over to the renter.
For more information, see www.newseabury.com.
Katharine Dyson is a golf and travel writer for several national publications as well as guidebook author and radio commentator. Her journeys have taken her around the world playing courses and finding unique places to stay. She is a member of the Golf Writers Association of America, Metropolitan Golf Writers of America; Golf Travel Writers Organization and Society of American Travel Writers.
June 24, 2008
Any opinions expressed above are those of the writer and do not necessarily represent the views of the management. The information in this story was accurate at the time of publication. All contact information, directions and prices should be confirmed directly with the golf course or resort before making reservations and/or travel plans.