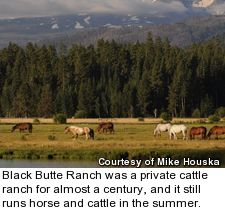 Real Estate
Oregon's Black Butte Ranch offers something you won't see at Bandon or Chambers Bay: homes for sale
The Pacific Northwest has been the hotbed of great American golf for the past decade or so, from the acclaimed opening of Bandon Dunes to the unprecedented youth as a U.S. Open venue of Chambers Bay.
But while it is much less famous among golfers following course ratings, Black Butte Ranch has something its top 10 counterparts can't match: homes for sale.
Black Butte Ranch is a 36-hole golf community and destination resort in central Oregon, about 30 minutes from Bend and the Redmond airport. It is aimed at families, with a huge array of outdoor recreational opportunities in addition to golf. There are five swimming pools, a large spa and 19 miles of paved bike and running paths, as well as access to U.S. Forest Service trails that can be used for horseback riding, hiking or mountain biking.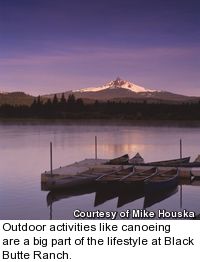 With its close proximity to the Metolius and McKenzie rivers, add fishing and whitewater rafting to the mix. There is also kayaking and canoeing, horseback riding and an outdoor concert series in the summer. In the winter, the ranch offers cross-country skiing, and a small local ski resort is just 10 minutes away for downhill skiing. All of this is set on a gorgeous 1,800-acre site along the Cascade Range with sweeping views of Three Sisters, Mount Washington, Black Butte, Broken Top and Mount Jefferson.
True to its name, Black Butte Ranch was a family-owned cattle ranch from the late 1800s to 1969, when planning began for a community-oriented family recreation resort. Black Butte embraces its heritage with working cattle and horse operations during the summer months.
Both a community and a resort, Black Butte Ranch has a lodge with hotel rooms for overnight guests as well as a large pool of rental homes. One of the attractions of buying here is knowing that the rental-management program increases the ease and likelihood of generating income to offset ownership costs. The resort aspect also adds several dining choices to the residential mix.
Real estate opportunities at Black Butte Ranch
There are 1,251 homes at Black Butte Ranch and a wide array of real estate opportunities, ranging from one-quarter share ownership opportunities in private homes to full-ownership, single-family homes running from the high $300,000s to well more than $1 million. Luxury condos begin at $349,000. As of August 2011, there were just nine undeveloped lots still available and approximately 70 homes for sale. A current example is a four-bedroom, two-bathroom, 2,214-square-foot chalet with a river-rock fireplace, deck, renovated kitchen and golf course views for $449,000.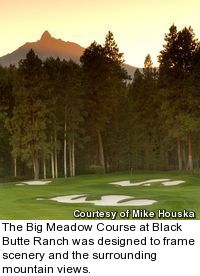 Black Butte has two golf courses, including the Big Meadow Course, a classic design by Robert Muir Graves that stretches to more than 7,000 yards. It was built with views in mind, constantly framing scenery such as the jagged volcanic peak of Three Fingered Jack. It is a parkland layout with substantial elevation changes as it rolls through forests of Ponderosa pines and Aspen groves.
The big news is the second golf course at Black Butte Ranch, Glaze Meadow, which is currently receiving a massive $4 million facelift by John Fought of nearby Sunriver Crosswater fame. Fought also won acclaim for his careful renovation of Pine Needles in Pinehurst, N.C.
Fought is applying the same sensibility and turning Glaze Meadow into what he describes as a "true Donald Ross/Dr. Alister MacKenzie type golf experience." While he is doing little earth moving in keeping with this design tradition, the renovation is top to bottom and features all new irrigation, greens and changes to the routing.
Glaze Meadow will reopen in May 2012. It is the resort's hope that its new "celebration of classic American golf course architecture" brings it national acclaim, which would not be surprising, considering that this is the golf-rich Pacific Northwest.
Larry Olmsted has written more than 1,000 articles on golf and golf travel, for the likes of Golf Magazine, T&L Golf, LINKS, Golf & Travel, Men's Health, Men's Journal, USA Today, and many others. He broke the Guinness World Record for golf travel and wrote Getting into Guinness, as well as Golf Travel by Design. He was the founding editor of The Golf Insider, and the golf columnist for both USA Today.com and US Airways Magazine.
September 6, 2011
Any opinions expressed above are those of the writer and do not necessarily represent the views of the management. The information in this story was accurate at the time of publication. All contact information, directions and prices should be confirmed directly with the golf course or resort before making reservations and/or travel plans.