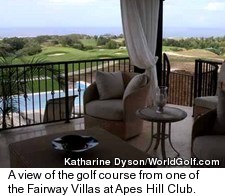 FAIRWAY LIFESTYLE
Apes Hill Club in Barbados: A golf and polo community in a tropical paradise
By Katharine Dyson,
Special contributor
BARBADOS - Birds fly in and out of the dense tropical foliage as you drive up the hillside through a deep gully passing bright plumes of wild ginger, great-rooted Banyan trees and waterfalls tumbling over rock cliffs into pools of koi.
When you reach the top at about 1,000 feet above sea level, you know you're going to get some views. And you do. From the top you can look out to the Caribbean on one side, the Atlantic on the other.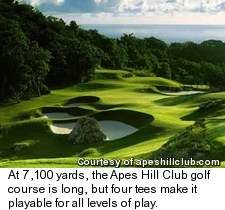 It's no wonder Sir Charles Williams chose this former sugar plantation (circa 1686) for his exclusive Apes Hill Club. Sir Charles, whose family came to Barbados from England in 1652, calls it "the jewel in the crown of his portfolio of properties." Since buying his first five acres of land in 1958, Sir Charles has acquired and developed a number of parcels, many former sugar plantations.
At Apes Hill Club, one of the most exclusive new real estate developments in the Caribbean, the thunder of hooves and golfers coexist. On one hand you have the golf club, on the other, the Waterhall Polo Centre. Of the four polo clubs in Barbados, Waterhall is the newest and arguably the best; it's one of the top fields in the Caribbean.
With a total of 870 acres, when built out (projected to be in three years) Apes Hill will have 400 villas and homes with spectacular views of the golf course, sea and polo field. Each of the eight neighborhoods are named after 17th century plantation fields such as Cabbage Tree, Great Hill and Holders Meadow. The master plan calls for leaving two-thirds of the property as open space.
Commanding a hilltop setting, a handsome 17,000-square-foot clubhouse is scheduled to open in December with a restaurant, bar, lounge, golf shop, locker rooms and member services. Also in the plan are a spa, fitness center, tennis courts, swimming pool and beach club.
Combining Bajan and contemporary design, local materials like limestone, coral and mahogany are used both inside and out of the properties here, yet each of the eight neighborhoods has its own distinctive characteristics like louvered shutters and large covered verandas. The two-story Polo Villas are white with some decorative exterior details and curved walls while the Fairway Villas are more mellow in color with a more contemporary flair.
All have an open, airy feeling with lofty ceilings and large windows opening to views of the fairways, sea and hills. Luxury amenities include private infinity pools and plunge pools along with spacious patios and garden areas. Master suites have balconies and all have garages.
Homes at Apes Hill Club in Barbados
The more expensive areas are the estate homes like those on Moonshine Ridge, which command hilltop sites affording spectacular views. A bonus for Moonshine Ridge residents is their proximity to the unique limestone caves and tunnels in the landscape.
These lots, priced up to $10 million, typically range from a half acre to four acres. Some particularly choice sites occupy a crest above the 16th hole with views of both the east and west coast, while more modest lots like those in Cabbage Tree Green range from $500,000 to $2.7 million.
A few residences have already been built by owners and by builders. A 6,400-square-foot home on Moonshine Ridge is currently on the market for $5.9 million. All home designs have to be approved by an architectural review board.
The 2,686 square foot Waterhall Club Polo Villas, the first neighborhood to be built, is 90 percent sold out while portions of Phase II and Phase III are underway. Most recently Holders Meadow's 36 lots, sitting on one of the highest points of Barbados, were released to the market.
Although the larger single-family homes typically contain more than 5,000 square feet, the villas, which are selling for between $1.9 million and $2.6 million (including country club membership), are in no way claustrophobic. Garden Wall's semi-detached three- and four-bedroom Villas, selling from $1.9 million to $2.3 million, average 3,300 square feet. The two-story Fairway Villas have 3,267 square feet, with three bedrooms and three and a half baths. These are designed with an open plan revealing bold views of the golf course and sea beyond and infinity edge pool.
Two Treehouse Villas have been completed with eight more to come, offering 3,149 square feet and three and a half baths. The four-bedroom Hilltop Villas boast 3,655 square feet.
The furnishings are a blend of traditional and contemporary and use a natural palette punctuated with the rich colors and textures of the West Indies.
Buyers are overwhelmingly British — more than 80 percent. Other buyers are coming from Canada, North America, Ireland and Sweden. The first residences to be built were the Polo Villas.
As might be expected given the current economic situation, which in Britain is not any rosier than in the states, after the initial flurry of sales, things have slowed down a bit, and there are some resales coming into the market. But for the most part, this well-cushioned group of buyers is less prone to fluctuations in the marketplace, so sales continue to go forward.
Golf at Apes Hill Club
Designed by Jeff Potts and Chris Cole for the Landmark Company, one of the partners in the development, the Apes Hill Club golf course is a stunner. Landmark, after all, knows how to build courses. Its portfolio includes the Ocean Course at Kiawah, Doonbeg Golf Club, in Ireland, PGA West and La Quinta Golf Club in Palm Springs.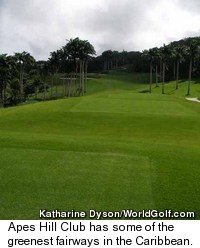 The fairways are finely sculpted with precision-cut bunkers, some with steep sides. At 7,100 yards, the course is long, but four tees make it playable for all levels of play.
The first nine is open to members for limited play, but the second nine is not expected to open until the end of the year. Already the deep green carpet of the Seashore Paspalum, a salt tolerant turf grass for salt water, has filled in nicely, creating a magnificent hitting surface. In fact, Apes Hill is the only golf course in Barbados to use this type of grass, which allows the salt/sea water combination to be used for watering, a smart and environmentally friendly way to provide irrigation. (Even the highly touted Green Monkey course at Sandy Lane, where one privileged tee time per day is reserved for "outsiders" at $4,000, did not use this grass when it was constructed just a few years ago.)
Besides magnificent views from holes No. 1, 9, 10 and 18, the course is both challenging and memorable, with dog legs, carries over ponds and serious elevation changes from 950 feet to 675 feet above sea level — the first hole climbs uphill 80 feet. More drama comes on holes four and five, which snake through the jungle.
Playing more than 7,000 yards from the tips, with four sets of tees, the course is user-friendly to higher handicappers. I found most holes had generous landing areas, although the wind and slope of the fairways were always a factor.
The day I stood on the 12th tee, a 225-yard par 3, the wind was brisk. I was told that depending on how hard the wind blows, there can be a five club difference — perhaps a swing from a seven to a three wood.
As we approached the 14th green, a green monkey casually ambled out and poised on the edge of the putting surface. Eyeing my ball, he looked like he was toying with the idea of a hit and run. For a brief while, he sat motionless, but as I approached he skittered back into the trees. There are many monkey sightings on the course.
Walking up the fairway on No. 16, a 200-yard par 3 that wraps around a pretty pond, you'll see on the left a natural limestone cave, a feature that is typical of Barbados.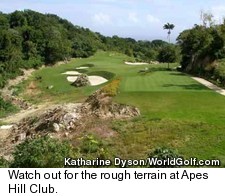 The day we went out, it was perfect golf weather, yet only one other foursome was in sight. Here we were on a pristine course, perfect playing conditions, yet it felt like we were on our own private course. This was somewhat understandable given just nine holes were open, and it is after all an exclusive members-only club. And they only send out groups every hour or half hour.
Apes Hill sales are currently operating from a temporary facility with much yet to come. A pro shop is set up in one of the Fairway Villas adjacent to the furnished model overlooking the golf course. There you can see the hilltop site where the 17,000-square-foot clubhouse is scheduled to open in December with a restaurant, bar, lounge, golf shop, locker rooms and member service. It is strategically located overlooking the golf course and polo facility.
Planned for completion in 2011 are a spa, fitness center, tennis courts, swimming pool and private beach club set on 1.5 acres along the sea.
Membership in the Apes Hill Club is limited to property owners, who buy into the club with a $50,000 refundable deposit and $8,000 annual dues. All property owners will be members of the Master Property Owners Association. If owners rent their residences, their club membership travels with the house rental.
Apes Hill Club is being managed by the prestigious Wentworth Club in England. Wentworth has brought in Ben Hatch as head professional.
For those investing big bucks in a golf (or equestrian) community in the West Indies, Apes Hill seems like one well worth looking into. Just ask Padraig Harrington: He is known to play it often.
For more information, see www.apeshillclub.com.
Katharine Dyson is a golf and travel writer for several national publications as well as guidebook author and radio commentator. Her journeys have taken her around the world playing courses and finding unique places to stay. She is a member of the Golf Writers Association of America, Metropolitan Golf Writers of America; Golf Travel Writers Organization and Society of American Travel Writers.
February 4, 2009
Any opinions expressed above are those of the writer and do not necessarily represent the views of the management. The information in this story was accurate at the time of publication. All contact information, directions and prices should be confirmed directly with the golf course or resort before making reservations and/or travel plans.