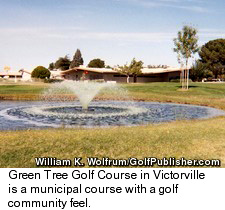 FEATURE STORY
For deals on golf course realty in Southern California's High Desert, now's the time to buy
By William K. Wolfrum,
Staff Writer
Southern California's High Desert has grown its golf infrastructure and today boasts properties in some thriving golf communities. And with the real estate market turning in buyers' favor, the time may be ripe to start shopping for golf course realty.
Few areas in Southern California have gone through as many transformations as the High Desert. Centered around Victorville and the I-15, this is an area that has seen times both good and bad.
For years, all that most Southern Californians knew of the High Desert was that it was a place to stop for gas on the way to gamble and/or golf in Las Vegas. Some perhaps pulled off on Palmdale to stop and eat at Denny's or visit Roy Rogers' Museum.
Then, a funny thing happened. The High Desert became the place to live. Property values exploded as many Southern Californians, unable to afford housing in Los Angeles and Orange County, started heading up the Cajon Pass to the much-less-expensive High Desert. And the area prospered as cities like Victorville, Hesperia and Apple Valley all benefited from the influx of people from "down the hill."
Then, like many other places in the United States, the bottom fell out of the real estate market. Over the second quarter of 2007, in fact, the whole of San Bernardino County - of which the High Desert is a part - saw foreclosures up nearly 1,000 percent over the same time period in 2006.
"It's a completely different world in real estate here now, and the people who get it are the ones selling their homes aggressively priced," said Tim DiTulio, a real estate broker in the High Desert. "And I don't think it's as low as it will go either."
But while the High Desert has had its share of ups and downs, it has also grown its golf infrastructure, today boasting some thriving golf communities. The time may be ripe for those looking for the perfect golf community to step forward, as prices are plummeting.
Here are some of the prime golf communities in the area for a bit of house hunting:
To start with, Silver Lakes is a private residential community that truly defies its desert location. Home to a private, Ted Robinson-designed 27-hole golf course, as well as a clubhouse with two swimming pools, Silver Lakes offers golfers the country club appeal they're after. But it's not called Silver Lakes for nothing; two lakes offer boating and fishing opportunities for those looking to spend time on the water.
To take it a step further, Silver Lakes, which comprises nearly 2,000 houses, also gives golfers something different - all the golf they want for one monthly fee. Thing is, nobody's buying right now.
"Based on the Multiple Listing Service out of Victorville, they said that in the High Desert the average market time for a home is over 500 days," said DiTulio. "At Silver Lakes it's 1,100 days. That's three years. If you're a buyer, it's the blue light special at Kmart here."
Keeping with the lakes in the desert concept is Spring Valley Lake, which is a golf community that has something special going for it. Its 18-hole course was designed by the father-son team of Robert Trent Jones and Robert Trent Jones Jr. Tucked away in Hesperia, it's a wooded area that will quickly make you forget you're actually in the desert.
Green Tree Golf Course is another option. While it is a municipal run, Green Tree has basically seen a golf community build up around it. Conveniently located next to the I-15, the course criss-crosses through upscale residential communities, and the course gets more than 35,000 rounds per year from locals, as well as those just driving by on their way to or from Las Vegas.
"We have a ton of traffic of people going to Vegas, so we get a lot of people stopping here to make this part of their trip," said Director of Golf Janey Lynch.
Like Silver Lakes, Jess Ranch is a guarded golf community that has created its own niche in the High Desert. With 2,500 homes, an RV Park, a lake and more, it's been a popular spot for seniors and others to locate in the town of Apple Valley. Add to that a daily fee golf course - Ashwood Golf Course - that recently added nine holes for a well maintained 27-hole run that gives players spectacular views of the nearby mountains, as well as the desert landscape.
August 7, 2007
Any opinions expressed above are those of the writer and do not necessarily represent the views of the management. The information in this story was accurate at the time of publication. All contact information, directions and prices should be confirmed directly with the golf course or resort before making reservations and/or travel plans.